The Challenge Coco's Skeletons Created For Pixar's Animators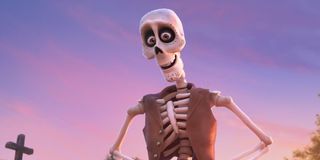 Over the years, Pixar has introduced a wide variety of characters who defy the laws of reality. We have seen living, breathing toys, forgetful fish, flying houses, and professional monsters who hail from other dimensions. However, one of the commonalities shared by all of those films was the fact that most of the principal characters could emote in natural ways. With the upcoming film Coco, that wasn't so easy. CinemaBlend and other outlets recently got a chance to see an early glimpse of the movie at Pixar, and Character Designer Daniel Arriaga explained that the skeleton ensemble found at the heart of the film made expression incredibly challenging, saying:
The evolution of the skeletons seen in Coco has taken quite a while, with the Pixar team toying with plenty of different permutations in the years since development on the project began. Although they tinkered with the concept of keeping the skeletons anatomically correct at times, it was eventually decided upon to give them eyes, facial features that can move (which is, of course, not possible for a real skull), as well as body shapes that uniquely reflect each character. After all, this isn't Army of Darkness; it's something lighter and more accessible.
Numerous other discussions also took place with regards to how to visualize the skeletons to help accentuate these characters even further and give them more personality. For example, all of the skeletons were given hair (albeit wigs, as opposed to real, growing hair), distinct costumes, and (in the spirit of the holiday) notably expressive facial features like eyebrows were replaced by the traditional paint often seen at Day of the Dead celebrations.
In the end, this all boils down to a desire to make the Day of the Dead a far less morbid holiday than one would initially think. Despite the holiday's focus on mortality (it's right there in the name), Coco is obviously not aiming to scare the kids and families who go to see it. In fact, during a chat I had with directors Adrian Molina and Lee Unkrich, they explained that they wanted to keep a focus on the positive emotions associated with the holiday, such as remembrance, family, and timeless love. With that type focus, you need skeletons who can convey that degree of positivity, comedy, and charm.
Coco will make its theatrical debut later this year on November 22. Until then, make sure to stay tuned for more awesome updates related to the film, in addition to all of Pixar's other highly anticipated projects!
Originally from Connecticut, Conner grew up in San Diego and graduated from Chapman University in 2014. He now lives in Los Angeles working in and around the entertainment industry and can mostly be found binging horror movies and chugging coffee.
Your Daily Blend of Entertainment News
Thank you for signing up to CinemaBlend. You will receive a verification email shortly.
There was a problem. Please refresh the page and try again.