Awards Blend: Is Dunkirk The Best Picture Frontrunner Right Now?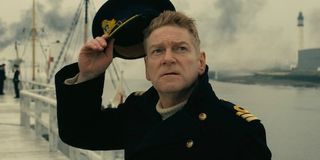 It's that time of year again, when the calendar pages turn away from the bombast of the Summer Blockbuster Season, and moviegoers look ahead to the contemplative and provocative Awards Season. Traditionally, the awards season launches in September, right around the time that the three-headed film-festival monster of Venice-Telluride-Toronto start to show off their programmed features, and formidable films begin to flex the muscle they'll have to rely on for a stout awards campaign. But plenty of films already have screened this year, and they, too, are eligible for Oscar love. If pressed to pick a potential Oscar frontrunner from the movies already in the pack, I can think of only one that tics the most boxes: Christopher Nolan's harrowing WWII drama Dunkirk.
Released in the heat of July, Christopher Nolan's Dunkirk tells assorted stories pulled from the heroic rescue of thousands of stranded troops on the beach of the title. Because it's Nolan, the movie doesn't follow a traditional narrative track, breaking its action into three segments that all last distinct lengths of time. And because it's Nolan, Dunkirk pushes the envelope of contemporary visual presentation, filming on 70mm film and taking full advantage of every corner of an IMAX screen. It was a running joke that if you didn't see Dunkirk in 70mm IMAX, you really didn't see the film at all. But the joke was fairly accurate, as the movie truly stuns in that format.
Not that these are absolute factors, but Dunkirk hit two big benchmarks during its run. It impressed critics, earning a 93% Fresh grade on Rotten Tomatoes. And it made money, banking more than $400 million internationally, making it the fifth-highest grosser on the director's film list (behind two high-profile Batman sequels, of course).
So, with critical acclaim and box-office heft in its corner, Dunkirk appears primed for an Oscar run. And at the moment, the competition found in movies that already have entered the field is nonexistent. Jordan Peele's Get Out has a shot at Oscar glory, but a return to theaters would really help remind audiences (and Oscar voters) what they liked about this early-year hit. Kathryn Bigelow's Detroit should be a contender, but that drama hasn't made more than a ripple in the overall conversation. Sundance and Cannes standouts like Call Me By Your Name or Mudbound need to restart their marketing efforts over the next few weeks if they hope to rekindle the Oscar fire around their hopeful endeavors.
Warner Bros., meanwhile, is strategically promoting the true strengths of Dunkirk: its unique visuals. The studio recently revealed that it would be bringing a 70mm IMAX print of the film to Toronto to screen during the film festival, accompanied by a Christopher Nolan Q-and-A. The move is purely an effort to keep the chatter swirling as Awards pundits set their tables. It's a very smart play on WB's part.
The reason I view Christopher Nolan's Dunkirk as the early Best Picture frontrunner is because if something walks like a duck, quacks like a duck, and feels like a duck, it's a duck. Dunkirk is a critically acclaimed moneymaker from an admired filmmaker who, at the moment, isn't facing much competition. It's based on actual events, covers historically significant endeavors, and thrills audiences in the process. So much can -- and will -- change between now and the end of the year. But I expect Dunkirk will be part of our Awards conversation as the rest of this race is run.
This poll is no longer available.
Sean O'Connell is a journalist and CinemaBlend's Managing Editor. He's frequently found on Twitter at @Sean_OConnell. ReelBlend cohost. A movie junkie who's Infatuated with comic-book films. Helped get the Snyder Cut released, then wrote a book about it.
Your Daily Blend of Entertainment News
Thank you for signing up to CinemaBlend. You will receive a verification email shortly.
There was a problem. Please refresh the page and try again.