9 Great Movies That Are Still In Theaters Right Now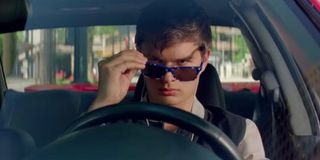 The summer movie season is coming to an end, and as the dust clears, it wouldn't be an understatement to say this summer has felt somewhat lacking. The box office numbers confirm that the summer didn't see as much business as last year, and if you think about the movies that you absolutely loved, the list might be fairly small
That's not to say that this summer didn't have great movies, because it absolutely did. However, many of them came from places that you might not have been expecting. With August being a little slow on the new release front, it's the perfect time to go back and grab a screening of a movie you might have missed. Here are a few great summer movies that are still in theaters now.
Wonder Woman
Ok, you probably didn't miss Wonder Woman. It's the biggest movie of the summer at the domestic box office and in the number two spot for the year, behind only the juggernaut that was Beauty and the Beast. However, the fact that Wonder Woman, a movie that came out over two months ago is even still in theaters is a testament to just how good it is. It's obtained its box office success not through having a couple of blockbuster weeks but by having consistently solid business every week since June. If you somehow did miss this one, fix that while you still can. If you did see it the first time around, go check it out again before it's gone.
Girls Trip
Every summer usually has at least one solid adult comedy to show off, and this year that movie was Girls Trip. The movie sees a group of friends traveling to New Orleans together where hijinks ensue. The Scarlett Johansson-starring Rough Night tried to have a solid summer with a similar premise, but Girls Trip is by far the better option and it's one of the best comedies so far this year. If you need a laugh as summer comes to a close, this is the movie to see. Better yet, see it with friends.
War For the Planet of the Apes
A crazy thing happened on Hollywood's path to rebooting every movie ever made. Somehow, against all odds, they produced a prequel trilogy where every single movie was actually good. Not only that, but based on the Rotten Tomatoes reviews, War For the Planet of the Apes is actually the best one so far. We're still not sure how this happened, but here we are. If you somehow missed this excellent trilogy, then you have three movies to keep you busy this month. Rent the first two, and then dash out to the theater to catch this one before it's gone.
The Big Sick
If big action movies aren't your cup of tea, then that's ok, there's a fantastic small comedy for you to enjoy, as well. The Big _Sick_ is based on the true story of the relationship between Kumail Nanjiani and Emily V. Gordon, who wrote the screenplay together. It's heartwarming and funny and not at all what you expect to find at the movie theater in the summer. However, the movie may be one of the best of the year, and that's reason enough to check it out. It's release hasn't been as wide as the others on this list, but it is still showing in many places, and it's worth searching out.
Spider-Man: Homecoming
It's difficult to believe that perhaps people missed Spider-Man: Homecoming, and yet, based on box office numbers, more people saw Iron Man 2 in the theaters than saw the newest incarnation of Spider-Man. Maybe people have Spider-Man fatigue, considering this is the third version of the character in barely over a decade, but the movie is a pure joy in its own right and it doesn't even require you to be up to speed on the rest of the Marvel Cinematic Universe. Go enjoy it on its own merits, of which there are many.
Baby Driver
Edgar Wright is known for making movies that we'd have to classify as offbeat. While Baby Driver may be his most mainstream movie to date, it is no less an Edgar Wright movie and it is by far the most pure fun you'll have at the movies this summer. It's got better car chase action than a Fast and Furious movie, and it's got a better soundtrack than anything with the Guardians of the Galaxy. There just isn't a movie like it, and while it's not full of massive digital effects, it's visuals deserve to be seen on the big screen and its soundtrack will only sound better on massive theater speakers.
Dunkirk
Christopher Nolan and the word "epic" get pushed together a lot, and his newest movie is another reason why. Dunkirk tells the story, often overlooked in the U.S., about the evacuation of thousands of stranded troops from the beaches of Dunkirk during World War II. It was a massive undertaking that involved not just the military but countless English civilians who answered the call to help. If you're going to see it at all, it's worth catching before it leaves theaters, especially if you can catch a 70mm format screening, as Nolan never disappoints when it comes to the way he presents his stories on the big screen.
Annabelle: Creation
Annabelle: Creation had a solid opening weekend at the box office, but that's somewhat expected as horror fans have been starved for content over the last few months. You'd be forgiven for thinking that a movie that's a prequel to a spinoff of a recent horror franchise might not be worth the effort, but the fact is that Annabelle: Creation is actually a solid little movie. It doesn't revolutionize the horror genre, but it does everything that it needs to do well to create a story filled with chilling atmosphere and all the scares you could ask for.
Detroit
Traditionally, the awards season movie don't start getting rolled out until September at the earliest, however, Kathryn Bigelow apparently decided to get a jump on the competition as her movie, Detroit was released in August and is absolutely one of the best movies to come out this year. Telling a story, which is, unfortunately, quite timely, Detroit is exactly the sort of movie that gets remembered when the awards begin to be considered. If you want to be sure to see all the major contenders, or simply want to see a great drama after all the summer blockbuster explosions have died down, then you should certainly go check out Detroit.
CinemaBlend's resident theme park junkie and amateur Disney historian. Armchair Imagineer. Epcot Stan. Future Club 33 Member.
Your Daily Blend of Entertainment News
Thank you for signing up to CinemaBlend. You will receive a verification email shortly.
There was a problem. Please refresh the page and try again.