Why Carey Mulligan Didn't Like Her Acting In The Great Gatsby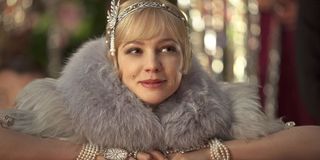 Carey Mulligan's filmography offers a number of acclaimed performances that truly run the gamut, from her Academy Award-nominated turn in Lone Scherfig's 2010 An Education to her 2007 role in a fan favorite episode of Doctor Who. Still, the actress is now facing one particularly harsh critic: herself. Mulligan has some issues with her own performance in Baz Luhrmann's 2013 take on F. Scott Fitzgerald's The Great Gatsby, suggesting that the size and scope of the production prevented her from connecting with the character of Daisy Buchanan as much as she would have liked. She explains:
In The Great Gatbsy, Carey Mulligan's Daisy Buchanan is the complicated love interest of Leonardo DiCaprio's Jay Gatsby. The notion of working with one Academy Award winner certainly goes some way to explaining Mulligan's "overawe" comment, and that's only one of the other members of the film's ensemble. The Great Gatsby also features sizable roles for Tobey Maguire, Joel Edgerton, Isla Fisher and Jason Clarke. That's in addition to having an Oscar nominated director in Baz Luhrmann, and a $190 million budget aimed at playing up the period spectacle for the film's 3D release.
In addition, Mulligan's comments to Variety suggest that, when it comes to her performance in The Great Gatsby, the production was simply too big for its own good. She explains:
The Daisy Buchanan role is one that has challenged actors for nearly a century. Lois Wilson was the first to play the part in a now-lost silent film version released in 1926, just one year after F. Scott Fitzgerald's original novel was published. In subsequent decades, Betty Field, Mia Farrow and Mira Sorvino would all headline various big screen adaptations over the subsequent decades. While Carey Mulligan may herself feel that her take needs improvement, she's also being a bit hard on herself. Her take holds its own against the other Daisy Buchanans the silver screen has known.
In a perfect world, production would just resume and Carey Mulligan could try again until she gets a performance she's truly proud of. After all, Jay Gatsby is precisely not the type of person to agree when you tell him you can't repeat the past. Surely he'd champion Carey's mulligan.
If you're a fan of big screen takes on literature, be sure to check out these these 22 books to read before the movie hits theaters.
Your Daily Blend of Entertainment News