What Star Wars' C-3PO Thought Of Jar Jar Binks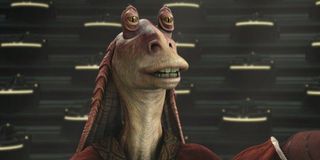 If you asked people to pick out one aspect of the Star Wars prequel trilogy that highlights its flaws, we would be willing to bet that many fans would bring up Jar Jar Binks. The Phantom Menace's CGI comic relief has become notorious in the years since the film debuted, but what do bonafide Star Wars insiders think of him? As it turns out, C-3PO actor Anthony Daniels addressed Jar Jar during an appearance at Fan Expo 2017, and while he diplomatically acknowledged that actor Ahmed Best did great work, he also recognized that Jar Jar wasn't meant for the adults in the audience, saying:
Star Wars is a franchise that appeals to families, which means different aspects of the universe will appeal to people of different ages. Much like the Ewoks encountered in Return of the Jedi, Jar Jar Binks was intended to work for the younger members of the audience, while someone like Darth Maul offered up a scarier and conventionally cooler character for older viewers. Anthony Daniels doesn't necessarily like Jar Jar, but he understands the audience who does and thinks Ahmed Best deserves fairer treatment from the character's haters.
As it turns out, opinions towards Jar Jar Binks can vary wildly among Star Wars insiders. Although Anthony Daniels publicly acknowledged that he's not a huge fan of the character during his Fan Expo 2017 appearance (via Space), others have chimed in and remained supportive of the character's existence over the years. In fact, Yoda voice actor Frank Oz likened the amphibious, Goofy-inspired buffoon to Abbott and Costello, citing his vital role as the comic relief for Episode I.
While Jar Jar Binks may have become a less popular character among the older Star Wars fans, that hasn't stopped some of the more creative Star Wars geeks out there from coming up with some truly fantastic fan theories about his relevance to the greater lore. In fact, some have even postulated that everyone's least favorite Gungan was a powerful Sith lord hiding in plain sight throughout the run of the prequel trilogy. This theory obviously isn't canon, but much like the long-held theory that the Death Star's fatal weakness was intentionally included in the design (which was made canon in Rogue One: A Star Wars Story), you never know which direction this universe will take an idea.
Although it doesn't look like we will see Jar Jar Binks pop up in another Star Wars movie anytime soon, Anthony Daniels' C-3PO will make his next appearance in the franchise when The Last Jedi debuts in theaters on December 15.
Originally from Connecticut, Conner grew up in San Diego and graduated from Chapman University in 2014. He now lives in Los Angeles working in and around the entertainment industry and can mostly be found binging horror movies and chugging coffee.
Your Daily Blend of Entertainment News
Thank you for signing up to CinemaBlend. You will receive a verification email shortly.
There was a problem. Please refresh the page and try again.