This Rotten Week: Predicting American Made, Flatliners, And Til Death Do Us Part Reviews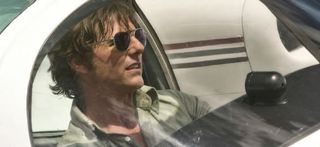 The fall movie season can provide its own highlights while coming down off the highs of summer. Sure, it isn't really blockbuster territory, but there's plenty to sink your teeth into over the next couple of months. This week is a good example, with a new Tom Cruise adventure, and two thrillers to get us ready for Halloween. Get ready forAmerican Made, Flatliners, and Til Death Do Us Part.
Just remember, I'm not reviewing these movies, but rather predicting where they'll end up on the Tomatometer. Let's take a look at This Rotten Week has to offer.
It's nice to see Tom Cruise take a break from his usual shenanigans of riding motorcycles, and running at top speed - making a flick that looks like it has a bit of substance. With American Made he trades in those usual modes of transportation to fly a plane for the Mexican drug cartels in the late 1970s/early 1980s. Cruise plays Barry Seal in a true story about guy who basically played all sides of the drug war in Central America (cartels, CIA, FBI, DEA, Contra rebels, you name it) in order to make a buck. Yup, a true American story.
Director Doug Liman knows a thing or two about making movies that are eminently rewatchable. He teamed up with Cruise on the terribly-titled (but damn fun) Edge of Tomorrow (91%), and has also helmed The Bourne Identity (83%), Mr. & Mrs. Smith (59%), and Swingers (87%). Any of these could on cable right now and I'd put everything down to watch. He missed with Jumper (16%), but otherwise the resume is about as good as it gets. American Made is already scoring with critics (88% through 50+ reviews) and I think it stays in this range. It's got director pedigree and a star who can deliver when the setting and script works.
I can't believe it's been 27 years since the original Flatliners came out. Not only did this effectively creep me out, but it also sported one of the better casts around at the time, with Keifer Sutherland, Julia Roberts, Kevin Bacon, Oliver Platt and Billy Baldwin all trying their hands at being dead for a couple of minutes (or more!). The concept was cool too: get dead for a couple of minutes and then bring some not so good stuff back with you. It was a cool flick, and we probably didn't need to ever bring it back ahem from the dead. But this is Hollywood, and a good thing always gets resurrected in the name of making a buck.
While perhaps not strictly a remake, given the involvement of Kiefer Sutherland, this new Flatliners centers on a whole new group of young people feeling a little more dead than they did before. It looks dumb. Sometimes it seems that Hollywood is destined to remake every movie of the past in an updated form, so I'm not surprised - but it should be forgiven if no one is excited to see it.
One thing I love about movies is the limitless resources provided to the characters to carry out the most inane scenarios that are in no way believable when translated to the real world. In Til Death Do Us Part, for example, a power couple separates because the husband is abusive and dominating. The wife runs away and "hides" while also having a sick house, good job and basically all the things you need to live a normal life. Except the husband, who also seems to have unlimited time, energy, and money, is able to track her down (because, duh), and then terror ensues. It doesn't matter to me, though, because I can't even get beyond the premise.
I can't imagine critics see anything in Til Death Do Us Part, which looks incredibly generic and thrill-less. In fact, I can probably predict how it ends: the ex-husband tracks down the wife and new boyfriend; he dies in some kind of "accident" after a long showdown; and the still-living couple lives happily every after. Don't bother.
Oof, it wasn't a good week for the Rotten Watch with two of the three movie predictions missing the mark by significant numbers. First off, Kingsman: The Golden Circle (Predicted: 80% Actual: 50%) finished well below its predecessor, and ends up as Matthew Vaughn's worst rated flick as a director. Sequels like this are always tricky. The first was something of a surprise with the tone and action falling firmly in the "hell of a lot of fun" camp. But recreating that kind of magic can fall flat if not done well, and that appears to be the case here.
Meanwhile, The LEGO Ninjago Movie (Predicted: 84% Actual: 53%) was another big disappointment after the first two films in the LEGO franchise crushed it in all areas (critics, box office, etc). Unlike the first two LEGO movies, this one had critics underwhelmed with many complaining the story just felt scrapped together and disjointed. Sure, there were some laughs, but as a whole it didn't get the job done.
And finally, Friend Request (Predicted: 15% Actual: 19%) fell within range of my prediction mostly because it was really damn easy to see that this thing was going to suck real bad. I mean, it was a movie about an online "friend" who ends up having supernatural powers that can kill people in your Facebook feed. Did we really think critics would like this pile of trash?
Next time around we've got Blade Runner 2049, The Mountain Between Us and My Little Pony. It's gonna be a Rotten Week!
Your Daily Blend of Entertainment News
Doug began writing for CinemaBlend back when Terminator: The Sarah Connor Chronicles actually existed. Since then he's been writing This Rotten Week, predicting RottenTomatoes scores for movies you don't even remember for the better part of a decade. He can be found re-watching The Office for the infinity time.