How Paddington 2 Just Got Caught Up In The Weinstein Drama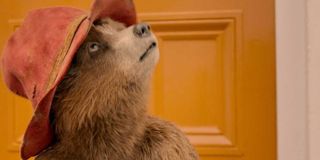 Paddington 2 has already been advertised throughout the U.S. It has been set for a January 12, 2018 release date in U.S. theaters and it's still likely to move forward. Regardless, recent reports indicate The Weinstein Company is trying to offload the movie as the studio works to begin the process of filing for bankruptcy protection following the recent Harvey Weinstein allegations.
Paddington 2 is getting distributed in the U.S. at a different time than in the U.K. The movie has already premiered in the U.K. over the weekend, and had a very good first weekend, making $10.9 million at the box office there. It also should be noted that the first movie was a big cash cow for The Weinstein Company, and was the fourth biggest movie the company has every worked on in terms of overall earnings. Variety notes that The Weinstein Company may be up to $500 million in "debt and obligations" so even selling off one movie like Paddington 2 could be a real boon for the company. Sony and MGM are currently being touted as the studios that could be potential buyers of the live-action family movie.
Paddington 2 was actually put together by Heydey Films, which co-produced both the first and second Paddington-oriented movies alongside StudioCanal. It's in the United States where The Weinstein Company even comes in, as TWC still currently owns the distribution rights to the upcoming flick. It's a subject that the makers of Paddington 2 have already stated they are disturbed about, noting as recently as mid-October that it has been "deeply frustrating" that Paddington 2 has been connected with the Harvey Weinstein allegations that broke around that time.
In this situation, it sounds as if what would be good for The Weinstein Company would also be good for Heydey Films and StudioCanal. The latter two studios want to sell Paddington 2 to further distance themselves from the Weinstein scandal. The Weinstein Company itself is likely looking to unload Paddington 2 to get rid of the valuable asset before assets are frozen or an outside party is appointed to approve or disapprove all company matters, as can happen with bankruptcy filings. If the company can sell off the film now, it can presumably control where the cash goes.
Obviously, Paddington 2's domestic distribution rights haven't changed hands yet, and StudioCanal would have a say on whatever studio the movie went to. In addition, The Weinstein Company has yet to file for bankruptcy protection, although reports indicate that should be imminent. We'll let you know if and when either of these things happen. For now, though, we can only hope that Paddington 2 is able to stick with its January of 2018 release date. Here's what else is coming up during the new year.
Amazing Race & Top Chef superfan with a pinch of Disney fairy dust thrown in. If you've created a rom-com I've probably watched it.
Your Daily Blend of Entertainment News
Thank you for signing up to CinemaBlend. You will receive a verification email shortly.
There was a problem. Please refresh the page and try again.