Gal Gadot Was Pregnant And Worked Out A System For Vomiting On The Justice League Set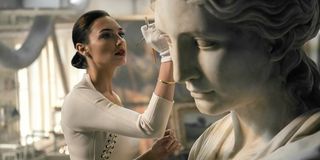 Given the stories Gal Gadot has told while promoting both Wonder Woman and Justice League, the actress might seem like she's pregnant all the time. In fact, she was actually in the early stages of pregnancy with her daughter Maya while shooting Justice League and this carried over into Wonder Woman reshoots. Luckily, while on the set of Justice League, she wasn't showing yet, but she was sick constantly, and she recently revealed she had a system for filming and vomiting. While totally safe for work, if you aren't a fan of vomiting stories, you aren't going to like this one. Consider yourself forewarned. Gal Gadot revealed on Live with Kelly and Ryan:
The image of Gal Gadot's poor assistant singing random musical notes on a random part of the Justice League set while her charge was vomiting loudly into a bucket she would then have to clean makes me feel this assistant deserves a medal. Does anyone know who this woman is? Was she paid extra to go on vomit duty? I feel like I need the full story, although it's probably all a day in the life of the average assistant sort of stuff. In all honesty, I wonder if vomit duty is a little bit more exciting than just picking up sandwiches and being available randomly when needed.
The actress also told Live with Kelly and Ryan that she was trying to be discreet about the whole thing since she was early in her pregnancy, but when a person is running off and vomiting all the time, it becomes pretty difficult to keep a secret, especially on a massive movie set. Although Gal Gadot said everyone working on Justice League pretty much knew that she was pregnant, there probably won't be any hints during Justice League. First of all, Gadot wasn't really showing, and often if you are getting morning sickness all the time, you might actually be staying the same size or even losing weight early on in pregnancy, not packing on the pounds. So, there probably wasn't even anything really needed to camouflage the pregnancy in post-production.
You can see the full vomit story in live-action, below.
Gal Gadot has been making the rounds on behalf of this weekend's Justice League release, and it's refreshing to hear her talk about a topic that's not related to Wonder Woman 2 or how Gal Gadot feels about the reshoots. You can find out how the new DC movie panned out when Justice League hits theaters late night tonight. You can also pre-order tickets (opens in new tab), now.
Your Daily Blend of Entertainment News
Reality TV fan with a pinch of Disney fairy dust thrown in. Theme park junkie. If you've created a rom-com I've probably watched it.