Funny Jurassic World 2 Video Puts The Sequel's Trailer Premiere In Danger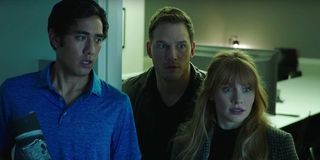 Universal Picture has been teasing Jurassic Park/World fans with snippets of the upcoming Jurassic World: Fallen Kingdom trailer over the last couple days, giving us such treats as an erupting volcano and a T-Rex in a crate. Thankfully, we only have to wait two more days for the first preview showcasing what Jurassic World 2 will have to offer. That's assuming, of course, that nothing interferes with the trailer's launch. But hypothetically speaking, what would happen if something threatened Bryce Dallas Howard and Chris Pratt from delivering the Jurassic World: Fallen Kingdom trailer to the masses? You can see such a scenario unfold in the amusing video below.
At first, it looks like everything is just going swimmingly for Bryce Dallas Howard and Chris Pratt. YouTube personality Zach King successfully put together the Jurassic World: Fallen Kingdom trailer, and although it's too late to add in even more dinosaurs at Pratt's request, at least it's ready to be released. Unfortunately, the trio run into trouble upon learning that a dinosaur has invaded their office area, and contrary to one guy's belief, hiding in the bathroom probably won't cut it. Even with King's magical ability to turn objects into other objects, like a phone becoming a flashlight and the Jurassic World: Fallen Kingdom trailer becoming a poster, it isn't easy trying to avoid the prehistoric predator. Thankfully, they come across an early '90s computer running the Unix system (Jurassic Park callback), so through a combination of Howard's old-school hacking and King turning the poster into a floppy disk, they're able to upload the Jurassic World: Fallen Kingdom trailer as planned.
Once that objective is completed, Bruce Dallas Howard, Chris Pratt and Zach King learn that the dinosaur they were so afraid of was just a cat named Michael wearing a dinosaur costume. Or at least, that's how it looks at first. It turns out there was indeed a raptor prowling around those halls, and Pratt has become its latest victim. Oh well, at least he finished filming Jurassic World: Fallen Kingdom before he was carried off, though his absence could pose problems during potential reshoots.
As we learned earlier today, Jurassic World: Fallen Kingdom will see Claire Dearing and Owen Grady returning to Isla Nublar to evacuate the dinosaurs who have been roaming there freely following the events of Jurassic World before a volcano eruption threatens to kill them all. Along with Bryce Dallas Howard and Chris Pratt reprising their respective roles, the sequel's cast includes B.D. Wong, Jeff Goldblum, James Cromwell, Ted Levine, Justice Smith, Toby Jones, Rafe Spall, Daniella Pineda and Geraldine Chaplin.
Directed by J.A. Bayona, Jurassic World: Fallen Kingdom rampages into theaters on June 22, 2018. Look through our 2018 premiere guide to learn when next year's other highly-anticipated blockbusters will arrive.
Connoisseur of Marvel, DC, Star Wars, John Wick, MonsterVerse and Doctor Who lore. He's aware he looks like Harry Potter and Clark Kent.
Your Daily Blend of Entertainment News
Thank you for signing up to CinemaBlend. You will receive a verification email shortly.
There was a problem. Please refresh the page and try again.