One Important Star Wars Moment Missing From The Last Jedi That We Really Missed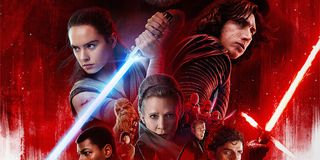 Warning: SPOILERS for Star Wars: The Last Jedi are ahead!
Star Wars: The Last Jedi featured a lot of familiar elements from a galaxy far, far away, but it also made a number of decisions to distinguish itself from its predecessors. The classic line "I've got a bad feeling about this" was hidden in BB-8's beeps, Supreme Leader Snoke was killed off rather than kept as an antagonistic force for Episode IX, the list goes on. It's safe to say that The Last Jedi felt significantly different from what came before, and among the fan community, the reaction to this creative direction has been polarizing to say the least. And there was one particular classic Star Wars moment we found ourselves missing from The Last Jedi, as this was the first of the main Star Wars movies not to feature a lightsaber duel.
To be clear, this wasn't the first Star Wars movie not to include a battle between two lightsaber wielders. That honor belongs to Rogue One, and in that instance, it was appropriate not to feature any of those laser swords since the spinoff story was focused on a ragtag group of Rebels fighting back against the Empire, not Force-wielding Jedi Knights (though we did see several kyber crystals, which power lightsabers). But from Obi-Wan Kenobi and Darth Vader clashing (twice!) to Obi-Wan and Qui-Gon Jinn battling Darth Maul, Star Wars fans have gotten used to seeing to see the forces of light and dark ignite their lightsabers and lock blades in an emotionally-charged duel. Not so in The Last Jedi.
Oh sure, there were plenty of moments featuring lightsaber action. Rey trained with Anakin Skywalker's blade on Ahch-To, and it almost looked like we would get our big duel between Luke and Kylo on the plains of Crait, but when it was revealed that Luke had conjured a Force projection of himself and was actually still on Ahch-To, our hopes for an epic showdown were quickly extinguished. The closest we came to getting a lightsaber duel was when Rey and Kylo engaged with Snoke's Praetorian guards after the Hugh Hefner-inspired villain was chopped in half. Granted, it was an intense fight, and the Praetorian Guards were certainly skilled at using their electrically-charged melee weapons, but this conflict was akin to when Anakin and Obi-Wan battled General Grievous' Magnaguards early on in Revenge of the Sith. It's not the same as seeing two opposing forces who can channel the Force locking their glowing blades in a struggle between good and evil. Of course, good and evil can be interpreted differently from a certain point of view, but that's beside the point.
On the one hand, we understand why Star Wars: The Last Jedi didn't feature the trademark lightsaber duel. Given how quickly events folded once Rey was off Ahch-To and where they ultimately led, throwing in such a scene might have disrupted the movie's momentum. And regarding the fake-out with Luke Skywalker and Kylo Ren, it was a cool twist that Luke never traveled to Crait to destroy his former student, instead choosing to expend all his energy into that Force projection so that the surviving Resistance members could escape and the galaxy would be inspired to rise up against the First Order. Nevertheless, if Rian Johnson and the creative team wanted to, they still could have fit in a quick lightsaber duel. Perhaps Rey and Kylo could have exchanged blows for a few minutes after the former refused the latter's offer to rule the galaxy. During the duel, both of them temporarily lose their lightsabers, and that leads into what went down in the theatrical cut, with both of them grabbing Anakin Skywalker's lightsaber and the weapon being split in half. This duel wouldn't have been nearly as long as the ones in the previous trilogies, but at lease our appetites would be whetted.
Overall, the lack of a lightsaber duel in The Last Jedi doesn't diminish the quality of the movie. It's just one of the classic features from the main Star Wars entries that we missed getting to see. Ideally Episode IX will make up for that, and like Revenge of the Sith, maybe even feature more than one of these fights. Besides, since Rian Johnson's upcoming trilogy will follow new characters in a corner of that galaxy never explored before, Episode IX could be the last time in a while that we see lightsaber combat in a trilogy entry, so let's hope J.J. Abrams can deliver on that front like he did in The Force Awakens.
Star Wars: The Last Jedi is now playing in theaters, and you can learn what we thought of the movie by reading our review and To 3D guide. Solo: A Star Wars Story will arrive on May 25, 2018, and this current trilogy will wrap up on December 20, 2019 with the release of Episode IX.
This poll is no longer available.
Your Daily Blend of Entertainment News
Connoisseur of Marvel, DC, Star Wars, John Wick, MonsterVerse and Doctor Who lore. He's aware he looks like Harry Potter and Clark Kent.
Your Daily Blend of Entertainment News
Thank you for signing up to CinemaBlend. You will receive a verification email shortly.
There was a problem. Please refresh the page and try again.