Disney And Redbox Are Fighting It Out Over Digital Download Codes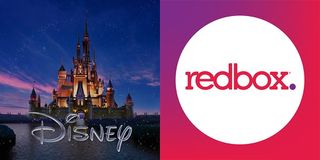 While Disney is preparing to compete with Netflix on the streaming front, it is currently in a battle with another entertainment distribution service, Redbox. At the heart of the conflict is Redbox's use of digital movie download codes. Disney has taken their dispute with the rental kiosk company into the legal realm with a lawsuit filed on November 30. Fast-forward to December 21, the Mouse House has filed a motion for a preliminary injunction in the case. The motion highlights the merits of Disney's case against Redbox and why it believes it is likely to prevail on the grounds of how Redbox's business practices have caused irreparable harm and impacted Disney's relationship with consumers.
So as anyone who uses Redbox knows, the kiosk service, found at groceries, fast food restaurants and convenience stores, rents and sells physical copies of movies. The kiosks work like vending machines and frequently feature new releases and popular titles. Going to a place to pick up a movie is not entirely unlike the video store/Blockbuster Video experience of yore, only with less choice. Redbox has distribution deals with certain studios that grants them the ability to feature certain titles in their kiosks on or near the home video release date. But Redbox has no such deal with Disney. So instead of leaving the blockbuster giant's titles unavailable to interested audiences, and thus money on the table, Redbox buys Disney films at retail. Now here's where things get hairy.
Disney films are often sold in combo packs. You get a Blu-ray, a DVD and a code for a digital download of the film (or 4K disc, Blu-ray and download code if you roll like that). In the lawsuit, Disney alleges that Redbox is disassembling the combo packs it purchases at retail and selling the download codes separately. These download codes come on little leaflets in the Blu-ray package that explicitly say "codes are not for sale or transfer." So by using these codes, customers are infringing on Disney's rights, a process that Disney says Redbox encourages. Redbox promotes these codes as a cheap and smart way to buy a film with digital downloads selling for as low as $7.99. Even if Redbox sells a code for $14.99 and Disney has the film on other distribution platforms like iTunes or Vudu for $19.99, that is a huge difference. That is money that is not going to Disney or its partners. Disney believes this disparity harms their relationship with licensed digital services as well as consumer's belief in a legitimate and equitable digital market.
The injunction, explained by The Hollywood Reporter, also shows Disney preemptively refuting Redbox's anticipated defense. The first sale doctrine would give anyone who purchases copies of a copyrighted work the right to sell those copies. But Disney claims that the code is just a code and not a copy of a work. This code provides authorized users the right to the digital download when redeemed in accordance with the terms of service. All of these factors are why Disney believes that Redbox's actions prevent it from having control over distribution of its won content and thus, in addition to financial losses, there is a great deal of harm being done to its brand.
Disney takes its IPs and relationships very seriously so you can bet that this isn't the last you will hear about this case. We'll keep you updated on this story as it develops. To see all the latest movies you can own on home video this holiday season, check out our December release guide.
Nick grew up in Maryland has degrees in Film Studies and Communications. His life goal is to walk the earth, meet people and get into adventures. He's also still looking for The Adventures of Pete and Pete season 3 on DVD if anyone has a lead.
Your Daily Blend of Entertainment News
Thank you for signing up to CinemaBlend. You will receive a verification email shortly.
There was a problem. Please refresh the page and try again.