This Rotten Week: Predicting All The Money In The World Reviews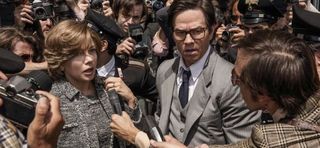 Heading into this holiday week we don't have much on the docket. Rather it's just one little kidnapping movie to whet our big screen whistle - coming to us from one of the most notable directors around. Let's take a look at All the Money in the World. It's gonna be a Rotten Week!
Just remember, I'm not reviewing these movies, but rather predicting where they'll end up on the Tomatometer. Let's take a look at This Rotten Week has to offer.
Having never been kidnapped or forced to pay the ransom, it's tough to know how anyone would react if put in the situation presented in All The Money In The World. That being said, if I was sitting on a gazillion dollars I think I'd be willing to pony up a few sheckles if one of my loved ones was snatched. It would seem only right. But that's not the case in this movie, which tells the story of J. Paul Getty's grandson being taken and the fight (on all sides) to get him back when the big guy doesn't want to pay.
Director Ridley Scott has had his share of critical wins in the short term with films like Alien: Covenant (68%) and The Martian (92%) crushing the Tomatometer scores. But he's also thrown out pieces of crap like Exodus: Gods and Kings (29%) and The Counselor (35%), so it's tough to know where this one stands with critics. I suspect this one falls right down the middle. The story looks compelling but I suspect they go a little over the top with the intrigue and head fakes in this drama.
All in all, we had a good run last time around. Four of the five movies fell within the predictive range, and I'm even feeling good about the miss. Jumanji: Welcome To The Jungle (Predicted: 80% Actual: 77%) was a hit and likely solidified this franchise as being around for the foreseeable future. With this much star power it would have been tough to be a complete dud, but it looks like they did a good job of making the comedy tongue-in-cheek to go with a fun adventure.
Father Figures (Predicted: 28% Actual: 22%) was predictably crappy. As much as I like the main players, Owen Wilson and Ed Helms, the trailer let on that this would be just your run of the mill comedy with no real bite. That's how critics saw it, and they expressed disappointed with the effort in both the writing and the performances. It looked stale from the outset and critics thought as much.
Meanwhile, The Greatest Showman (Predicted: 39% Actual: 50%) finished right at the midway point and I'm hoping a negative review or two over the short term will bring this back into my range for success. Musicals have some big hurdles to clear because they won't often appeal to a mass market and need to hit all the right ahem notes. Critics enjoyed Hugh Jackman's performance, but agreed it wasn't a biopic about P.T. Barnum as much as just an excuse to use his name in a movie with a bunch of songs.
Then there was Downsizing (Predicted: 51% Actual: 52%), which was nearly a bullseye prediction. Critics were lukewarm on the story and message from a future where people shrink themselves in order to live lives of tiny luxury. It was a bit confusing to tell what the "point" of the movie was even from the trailer, and critics shared the same critique with the movie writ large.
And finally, Pitch Perfect 3 (Predicted: 48% Actual: 29%) underwhelmed, and I missed on the prediction by a decent amount. I knew it was going to underperform, and made a mistake by not scoring it much lower. This is another example of the law of diminishing movie returns. It's tough to keep throwing out sequels and have them keep being winners.
Next time around we've got Insidious: The Last Key. It's gonna be a Rotten Week!
Doug began writing for CinemaBlend back when Terminator: The Sarah Connor Chronicles actually existed. Since then he's been writing This Rotten Week, predicting RottenTomatoes scores for movies you don't even remember for the better part of a decade. He can be found re-watching The Office for the infinity time.
Your Daily Blend of Entertainment News
Thank you for signing up to CinemaBlend. You will receive a verification email shortly.
There was a problem. Please refresh the page and try again.