8 January Movies Actually Worth Looking Forward To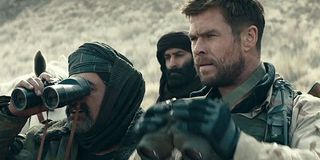 A new year is finally upon us, which means that an entirely new slate of films is upon us, as well. From top to bottom, 2018 is looking pretty good, but that doesn't change the fact that January still tends to be a bit of a dead period in terms of high-quality cinema.
That's where we come into the equation. We have gone through the calendar and picked out an assortment of January 2018 releases that actually look like they could be worth your hard-earned money. There are quite a few films to get to here, so let's kick things off with Aaron Sorkin's directorial debut.
Molly's Game
After decades of proving himself as one of the best screenwriters in the industry, Aaron Sorkin has finally decided to step behind the camera for Molly's Game. The impossible-yet-true story about a woman named Molly Bloom (Jessica Chastain) who ran the world's most exclusive high-stakes poker game, the film is a deep dive into a world of debauchery, deception, and endless backstabbing. It's the type of movie that Sorkin has expertly written for years, and based upon CinemaBlend's own positive review of the film, it looks like many of his fans have overwhelmingly appreciated his transition into directing.
Release Date: January 5
Insidious: The Last Key
Horror has experienced a notable upswing lately, and while much of that progress has stemmed from original movies like _Get __Out_and _Tragedy Girls_, we've seen solid horror franchises over the last few years as well. Insidious is one of those franchises. The series has now moved into tetralogy territory with Insidious: The Last Key and the journey into the past of Elise Rainier (Lin Shaye) seems to tick all of the necessary boxes that make for a great, scare-filled horror romp. If you're a fan of horror, then it looks like you're going to want to journey into The Further this January.
Release Date: January 5
The Room
Okay, so this one is technically somewhat different from the other films on this list because it has been out for a decade and a half. However, with The Disaster Artist generating some serious awards buzz, it only seems fair to return to The Room and see the madness that inspired the movie about the madness. Though The Room regularly plays in select theaters all around the world, the film will finally receive a much wider release on January 10, which means you now have no excuse to not see the movie in a packed auditorium with hoards of rabid, spoon-throwing fans who have fallen in love with it over the years.
Release Date: January 10
The Post
The release of a Steven Spielberg movie is always going to be an event, and the wide debut of The Post truly feels like something that only comes around once every few years. Focusing on the conflict between The Washington Post and the Nixon administration during a time of immense political turmoil and unrest in the 1970s, the film's core premise centers on the idea of the free press -- as well as the importance of that free press in maintaining American democracy. Early reviews from people who managed to see The Post in 2017 are widely positive, and it looks like this is an awards contender you won't want to miss.
Release Date: January 12
Paddington 2
So far, we have mostly talked about horror films and adult-oriented dramas in our list of movies that will debut in theaters this month, but there's also a more family-appropriate sequel coming down the pipe as well. Specifically, Paddington 2 is gearing up to debut in cinemas later this month on January 12, and we couldn't be more excited about it. The original Paddington was a shockingly heartfelt kids' movie that worked by leaning headfirst into its sense of whimsy, and everything that we have seen about Paddington 2 seems to promise something similar. Make yourself a marmalade sandwich and prepare for something magic this time around when the sequel finally makes its theatrical debut.
Release Date: January 12
12 Strong
It's not uncommon to see a war film step into the January release window, and this year we're going to get one of the most unique-looking war movies in recent memory. 12 Strong (formerly known as Horse Soldiers) focuses on a group of Green Berets dropped into Afghanistan immediately in the wake of 9/11, and chronicles the exploits of these twelve soldiers as they embed themselves in with the local tribes and take the fight to the Taliban. 12 Strong looks intense, and it seems to promise yet another entry in the recent string of compelling post-9/11 war films that we have seen over the course of the last few years.
Release Date: January 19
Den Of Thieves
The early portion of the year is often a time at which mid-range action films can do well, with movies like Sleepless and Triple 9 offering up some decent thrills along the way. This year, it looks like Den of Thieves will stand out as the project to take up that mantle. The film follows an elite team of crack law enforcement officers as they face off against a crew of ace bank robbers on a mission to take down the Federal Reserve Bank. The film looks like a hard-hitting action film in a landscape that could use that type of movie at the moment.
Release Date: January 19
Maze Runner: The Death Cure
Young Adult adaptations can range from pretty great to downright bad, with a number of franchises falling somewhere in that spectrum. With The Maze Runner and Maze Runner: Scorch Trials, the Maze Runner franchise has generally skewed towards the positive side of the scale. Now, things are going to reach a head with Maze Runner: The Death Cure, as Thomas (Dylan O'Brien) will engage in one final assault against WCKD in the Last City. Production ground to a halt when O'Brien suffered a major injury on the set while filming a stunt, but it looks like things have wrapped up nicely for this YA franchise.
Release Date: January 26
This poll is no longer available.
Originally from Connecticut, Conner grew up in San Diego and graduated from Chapman University in 2014. He now lives in Los Angeles working in and around the entertainment industry and can mostly be found binging horror movies and chugging coffee.
Your Daily Blend of Entertainment News
Thank you for signing up to CinemaBlend. You will receive a verification email shortly.
There was a problem. Please refresh the page and try again.