The Unbelievable Reason Den Of Thieves Was Able To Get Access To The Federal Reserve Bank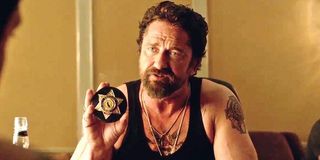 While we've already told you about how Den Of Thieves has been inspired by some of the greatest crime films ever set in Los Angeles, and how it will be different, there's another pretty big reason why the Gerard Butler-led heist thriller is unique. It revolves around a group of bank robbers trying to complete a seemingly impossible heist on the Federal Reserve Bank in downtown Los Angeles.
Gaining access to the actual Federal Reserve Bank in downtown Los Angeles was always going to be difficult, what with the fact that it is the home to billions upon billions of dollars. Luckily, and, quite frankly, unbelievably, though, one of the film's producers Tucker Tooley had some inside access to the building. That's because his dad actually helped to develop and design the building. Tooley recalled,
Co-writer and director Christian Gadegast also opened up about this experience inside the Federal Reserve Bank, admitting that simply seeing that amount of money was "pretty trippy." Gudegast recalled,
Just in case you're still in the dark about why robbing the Federal Reserve Bank is so audacious, and is so inherently cinematic, Tooley explained,
You can get a quick glimpse at how Pablo Schreiber, O'Shea Jackson, and Curtis Jackson's robbers will try to do just that, and how Gerard Butler's corrupt cop will try to stop them, by watching the trailer for Den Of Thieves below.
Den Of Thieves will be released on January 19.
Your Daily Blend of Entertainment News
Thank you for signing up to CinemaBlend. You will receive a verification email shortly.
There was a problem. Please refresh the page and try again.