10 3D Movies We Want To See On RealD's Ultimate Screen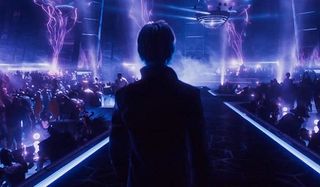 Recently, we reported on how 3D tech house RealD had made a big presentation regarding their cutting edge Ultimate Screen technology. With the company looking to scale up the roll-out of the brighter, more 3D friendly screen they debuted with Billy Lynn's Long Halftime Walk, there are a lot of movies on the horizon that would benefit from a much brighter experience in the third dimension. But in particular, there are 10 movies that we think would look particularly fantastic on a much crisper screen.
Black Panther
When it comes to the world of the Marvel Cinematic Universe, there is a fantastic gamut of color content and action; adventure-heavy scenes that could use as much clarity as possible. So seeing as Black Panther is the first Marvel Studio film of 2018, we can't think of a better movie to start our wishlist off with. All signs point towards a visual feast in Ryan Coogler's first MCU film, and with the rich black, purple and gold colors in the film's toolbox, you're going to need a brighter screen to make sure all of that detail can be seen past the dimming of the 3D glasses.
Ralph Breaks The Internet: Wreck-It Ralph 2
Animation is a world that the 3D realm loves to visit, and out of all of the animated films coming our way, Ralph Breaks The Internet: Wreck-It Ralph 2 is a choice that's a natural for our Ultimate Screen-worthy candidates. In particular, the frenetic action that Ralph and Vanellope are going to undoubtedly be engaged in should look smoother with a better and clearer picture at hand. With the standard movie screen allowing the audience to experience the blur and noise detailed in usual 3D picture, putting this Disney sequel on a brighter screen should make for a grander experience.
A Wrinkle In Time
A brighter 3D screen helps when it comes to a film with a darker color palette. But that brightness can also help a film with robust, lighter shades come through all the better. With Disney's A Wrinkle In Time, the visuals skew towards mostly lighter colors being displayed throughout the film's environment. So when a scene is supposed to be (safely) blinding the audience with brilliant color, the Ultimate Screen would be more than able to make sure that the impressive colors will show through without a hitch. Though it looks like there will be some dimmer and darker elements that will most assuredly benefit as well.
Ready Player One
Surprisingly, Steven Spielberg has had only a handful of his more recent films in 3D. One of the leading purveyors of blockbuster thrills, Ready Player One is a film that undoubtedly deserve its 3D stripes, as the film will want to put audiences into the Oasis. With that in mind, the usual "window" between the audience and the film they're watching is minimized with the Ultimate Screen's clarity of presentation. To use that technology on a film like Ready Player One is not only a given, it's a good way to draw folks to the live-action adaptation of Ernest Cline's popular book. This would truly be the next best method, aside from VR, to enjoy Wade Watts' adventure.
Pacific Rim: Uprising
When you have a movie that uses huge Jaegers and even bigger Kaiju on a theatrical screen, you want to know what you're looking at. Pacific Rim Uprising comes from a franchise that has experience in 3D, but that experience was back in the older, pre-Ultimate Screen days. Now that there's a new type of screen that shows off a more colorful picture in a clearer presentation, it's the sort of movie that really needs to be seen as big and as bright as you can make it. Which leads us to our ultimate suggestion for the ultimate screen: using this new material to create a better IMAX presentation alongside the improvement of traditional theatrical films. If this technology can jump into the realm of large format films, it would be the ultimate ride at the movies.
Avengers: Infinity War
The question was never, "Should Avengers: Infinity War be shown on an Ultimate Screen?", but rather, "What do we have to do to get that done ASAP?" Taking place across all realms of the Marvel Cinematic Universe, every color palette, battleground and major character will be present and accounted for in this new showstopper of a movie. It's the culmination of 10 years of filmmaking, and as such, showing off the various stripes of the MCU should be done on the best screen known to man. Because if Thanos is going to punch the audience, then they better be able to feel it. Otherwise what's the point?
The Incredibles 2
After over a decade of absence from the cinematic landscape, The Incredibles 2 is coming to show us what the Parr family is up to now that they're all practicing superheroes. And seeing as this is the first time 3D will be in the mix, the quintessentially '60s comic book style imagery is going to need as much visual punch as it can get. Pixar's always been about the state of the art, so it's only fair that The Incredibles 2 gets the full bells and whistles treatment that only the Ultimate Screen can provide.
Alita: Battle Angel
Another film in the bunch that looks absolutely stunning, but will need some serious brightness correction in its 3D presentation, is Alita: Battle Angel. Based on the popular manga that James Cameron has been looking to adapt for some time, director Robert Rodriguez will be trying his hand at making Alita's cinematic debut one that'll stick with the public. The man knows this sort of storytelling inside and out, and has worked with 3D since the earliest days of the format. So it's only a fair request that Mr. Rodriguez push to have this long-awaited epic shown on the brightest screen available for 3D.
Fantastic Beasts: The Crimes of Grindelwald
When Fantastic Beasts and Where To Find Them was released into 3D theaters, there was one glaring fault in the film's traditional third-dimensional presentation: the film was severely too dark. A good portion of that first film was set in darker lit rooms with an already subdued color palette for the Muggle world of the 1920s. So with Fantastic Beasts: The Crimes of Grindelwald looking to expand the Wizarding World even further, this is the perfect opportunity for the franchise to improve its 3D game. With an Ultimate Screen being used to display the film's RealD conversion, there's a good shot at the darker parts of J.K. Rowling's cinematic universe being a much smoother ride.
Spider-Man: Into The Spider-Verse
For almost every film on this list, there's a precedent when it comes to their visual components. But with Spider-Man: Into The Spider-Verse, the CGI approach takes a more comic book-looking route. With an art style that's looks like it'll pop right off of the screen, everything needs to be perfect. The visuals need to be crisp, the colors need to be vibrant and the sense of 3D reality really needs to lock into place for this film to work at its best in this premium format. With as much lead time as there is between now and December, we can't think of a better finale to 2018's cinematic adventure than to be able to bring the first adventure of Miles Morales to not just the big screen, but the Ultimate Screen!
Click here to access our To 3D or Not To 3D archive, and don't forget to consult our 2018 3D release schedule before heading out to the movies!
CinemaBlend's James Bond (expert). Also versed in Large Scale Aggressors, time travel, and Guillermo del Toro. He fights for The User.
Your Daily Blend of Entertainment News
Thank you for signing up to CinemaBlend. You will receive a verification email shortly.
There was a problem. Please refresh the page and try again.