Fantastic Beasts: The Crimes Of Grindelwald - What We Know So Far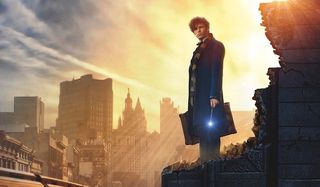 WARNING: Some Spoilers for Fantastic Beasts and Where To Find Them are in play. Please bookmark this story until you've watched the film, unless you're ready for spoilers.
Fantastic Beasts and Where To Find Them was always going to be the doorway to more adventures in the wizarding world of J.K. Rowling. But instead of just three films, the Fantastic Beasts series is in the game for five installments of Newt Scamander and his friends fighting against the forces of darkness. So, now's probably a fantastic time to compile what we know about the next installment of this new series, which is titled Fantastic Beasts: The Crimes of Grindelwald. What do we know so far about this first Fantastic Beasts sequel? Read on and find out.
What Have We Seen From Fantastic Beasts: The Crimes Of Grindelwald?
With the movie's release now just a few weeks away as of this writing, we've finally gotten the final trailer for the film to feast our Wizarding eyes on. And, as you can see above, it promises tons of action, appearances from old favorites and new characters alike, and a lot of intrigue. If you were already excited for Fantastic Beasts: The Crimes of Grindelwald, then this look at the movie is sure to keep you hyped!
When Will Fantastic Beasts 2 Be In Theaters?
With previous reports that films in the Fantastic Beasts world would be coming every two years, Fantastic Beasts: The Crimes of Grindelwald pretty much makes good on that promise with its November 16, 2018 release date. It will be competing against Instant Family and Widows on its day of release, with the likes of Dr. Seuss's The Grinch and Overlord opening before it, and Ralph Breaks The Internet: Wreck-It Ralph 2 being released the weekend after. Still, Fantastic Beasts: The Crimes of Grindelwald shouldn't have a problem making for a hell of an opening weekend.
What Will Fantastic Beasts 2 Be Rated?
Both the Harry Potter and Fantastic Beasts series have historically been in the PG / PG-13 wheelhouse. As predicted, the PG-13 rating has stuck to the franchise, as it doesn't seem that the darkness of the threats to the wizarding world will be lightening anytime soon. The official rationale by the MPAA for the rating is due to, "some sequences of fantasy action." With magical murder, warfare, and dangerous snakes flying around in the Wizarding World, we're not the least bit surprised.
Who Will Direct Fantastic Beasts 2?
After originally balking at returning to the world of Harry Potter, David Yates brought himself back into the fold with Fantastic Beasts and Where To Find Them. Previously, Yates had declared that first film as, seemingly, reinvigorating his desire towards seeing the series through its five film plan. Sure enough, David Yates returned to the director's chair for Fantastic Beasts: The Crimes of Grindelwald, making this his sixth film in the Wizarding World. Though this is far from going all the way, series producer David Heyman seems to think that if anyone could go the distance in the world of Harry Potter, it'd be Yates.
Where Will Fantastic Beasts 2 Be Set?
Fantastic Beasts: The Crimes of Grindelwald is going to be a pretty European affair, as the story is already set up for a trip to Paris, as previously indicated by director David Yates. Between a magical circus that sees Credence Barebone running away from home, and the French Ministry of Magic, there's going to be quite some action in the city of lights. Yates also previously indicated that the film will mark the series' return to the UK, and we've definitely seen footage of Newt Scamander and Albus Dumbledore apparating at Hogwarts, despite previous reports that the landmark location was a toss-up for inclusion.) Though, don't be surprised if the film at the very least teases a trip to Germany towards the end, as that's the home nation of newly in play Gellert Grindelwald, and it looks like World War II will definitely be included in the series' near future.
When Will Fantastic Beasts 2 Be Set?
There were rumors that the next film in the Fantastic Beasts series would take place almost immediately after the events of Fantastic Beasts and Where To Find Them. However, after those rumors made their way back to J.K. Rowling herself, she weighed in on those remarks, dispelling them and stating that it wouldn't "begin days after the first movie ended." With a timeline set between 1926 and 1945, there's a 19 year gap for the second film to play around with, though we'd like to think that 1930 would probably be a logical starting point for Fantastic Beasts 2.
What Is The Plot Of Fantastic Beasts 2?
Fantastic Beasts: The Crimes of Grindelwald sees the titular dark wizard escaping from MACUSA's captive watch, and making his way to Europe to try and wage war against the Mudblood and Muggle races. With Albus Dumbledore apparently being unable to fight this war himself, the Hogwarts professor enlists his former pupil, Newt Scamander, to help prevent said conflict. Their adventures will bring other Fantastic Beasts characters back into the fold, and will see them return to Hogwarts, as well as make their way through the magical portions of France.
Of course, it only makes sense that the story for Fantastic Beasts: The Crimes of Grindelwald will see Newt continuing his career in magizoology, while also being roped into the continued search and fight against Gellert Grindelwald. Seeing as Albus Dumbledore was extremely close to Grindelwald, his reluctance to fight his former friend may be tied to his romantic feelings, though the two are on the path to conflict in the timeline set for the five film cycle. Also, it's to be assumed that Leta Lestrange, Newt's ex-girlfriend and now his brother Theseus's fiance, is more than likely in Grindelwald's camp, seeing as her family eventually has deep roots in the darker side of the wizarding community.
Which Characters Will Return for Fantastic Beasts 2?
The definite list of characters previously specified as coming back in Fantastic Beasts: The Crimes of Grindelwald were laid out by David Heyman as Tina, Queenie, Jacob, Credence, Grindelwald, and, of course, Newt himself. How these characters will be brought together, considering they'll be separated by an entire ocean, has yet to be seen. But, we have seen the various characters returning in various trailers and pieces of footage. Also, MACUSA president Serafina Piquery will also be returning, as Tina has been reinstated in the organization, and someone has to be in charge. Though, there are more questions around how Credence will reappear, considering the big reveal of his survival was removed from the finale of Fantastic Beasts and Where to Find Them. His appearance is confirmed though, as we see him in the Circus Arcanus (a sort of shady wizarding circus in France) with who looks to be the human form of Volemort's pet snake / horcrux, Nagini.
Will Newt Still Be At The Center In Fantastic Beasts 2?
Despite his front and center presence in Fantastic Beasts and Where to Find Them, David Heyman has gone on record as stating that Newt won't necessarily be the front and center character for the future Fantastic Beasts films. With the hunt for Grindelwald being of some importance to the wizarding world at this point, it would only make sense to shift focus onto more pressing matters and the characters who can really move the story along. However, Newt was our first focal point into this world, and neither he, nor his fantastic beasts will be leaving anytime soon. Although, this does make us question the strategy of naming every film "Fantastic Beasts and..."
How Well Does Jacob Remember The Events Of Fantastic Beasts and Where To Find Them?
At the end of Fantastic Beasts and Where To Find Them, baker and Muggle/No-Maj companion Jacob Kowalski had his memory wiped by the cleansing rain that Newt encouraged his Thunderbird, Frank, to bring down upon New York City. However, we see that at the very end of the film, not only has Jacob built his bakery, he's creating pastries that look like the fantastic beasts he was exposed to throughout the film. And, not only that, but he sees Queenie Goldstein, and looks to definitely have remembered her. At the recent VIP event for Fantastic Beasts: The Crimes of Grindelwald, actor Dan Fogler assured the crowd that we'll find out exactly how Jacob gets his memory back, and it'll be fairly early on in the film.
Which New Characters Are Joining The Cast?
The three big names that were originally thrown out as appearing in the Wizarding World of Fantastic Beast: The Crimes of Grindelwald were Albus Dumbledore, Leta Lestrange, and Theseus Scamander. With Dumbledore being an obvious inclusion into the Fantastic Beasts world the moment Grindelwald's name was printed in first film's opening sequence, Leta and Theseus are more tied into Newt Scamander's personal history, which only helps further integrate his story into that of the hunt for the villainous wizard he encountered in Fantastic Beasts and Where To Find Them. So far, we know that Leta Lestrange will be played by Zoe Kravitz, and is Newt's ex-girlfriend, who is now engaged to Theseus Scamander, played by Callum Turner. With her obvious relation to Harry Potter's Belatrix Lestrange, it'll be interesting to see how her presence links through to that of her relative by marriage.
Theseus was mentioned in Fantastic Beasts and Where to Find Them as Newt's older brother, and a bit of a war hero in the First World War. Between those luminary contributions, and his current relationship with his brother's ex, a little bit of sibling rivalry seems to be on the horizon, and we've seen some of it come to the forefront in the latest trailer for the sequel. Rounding out the newer cast members of Fantastic Beasts: The Crimes of Grindelwald are two important characters to the Harry Potter canon: alchemist Nicolas Flamel, played by Brontis Jodorowsky, and Nagini, played by Claudia Kim.
When Did Fantastic Beasts 2 Begin Production?
Since Fantastic Beasts: The Crimes of Grindelwald was scheduled for a November 16, 2018 release date, production was slated to start at some point in 2017. Per David Heyman's statement that "July / August" 2017 would be the projected start date, July 3, 2017 marked the official start of production on the second Fantastic Beasts film. The production was a smooth one, with everything wrapping up in December of that same year, and the release date remaining unchanged and locked for action.
What New Creatures Could We See?
There are quite a few creatures we haven't seen come to life that have been listed in Fantastic Beasts and Where To Find Them. With the return to England and a trip to Paris in the series' future, there's all sorts of environments and lands that other beasties are camping out in, just waiting to be found by Newt Scamander and whomever may accompany him. While we're not sure of any of the creatures we'll definitely see, there's more than likely a chance that we'll be seeing some dragons, as the Harry Potter series has made a big deal about their presence in this world, and Europe is probably the best continent to spot one on. The "Winged Horse," or the "Pegasus" as it's best known as in Muggle mythology, was a popular symbol among the UK's paratroopers. So, maybe we'll get to see those beauties at some point, setting them up to be used in any sequences set during the later part of the series' 19 year timeline. At the very least, we do know that there will be some baby Nifflers to coo over, once Fantastic Beasts: The Crimes of Grindelwald debuts.
Will There Be Any References To Other Characters From Harry Potter?
Of course, the biggest question we have is, will any other Harry Potter figures be crossing over into the Fantastic Beasts series, other than Albus Dumbledore? Already, Gellert Grindelwald is going to be present during the rest of the series, so that base is covered. Also, with Nicolas Flamel and Nagini being confirmed as debuting in this second film, more links to the pre-existing mythology will start to wind between the past and the present. But, with Hogwarts being one of the settings for Fantastic Beasts: The Crimes of Grindelwald, we might see younger versions of some professors, such as Minerva McGonagall, who is born during the time frame of this series of prequels. Though, to be honest, we wouldn't put too much faith in seeing a lot of old faces from the Harry Potter realm, as Fantastic Beasts is meant to be both a prequel to those adventures, while also being its own thing.
PHOTOS: Copyright: (c) 2016 WARNER BROS ENTERTAINMENT INC. ALL RIGHTS RESERVED
Photo Credit: Courtesy of Warner Bros. Pictures
Senior Movies Contributor
CinemaBlend's James Bond (expert). Also versed in Large Scale Aggressors, time travel, and Guillermo del Toro. He fights for The User.