The Reason Michelle Williams Reportedly Made Less Than Mark Wahlberg For All The Money Reshoots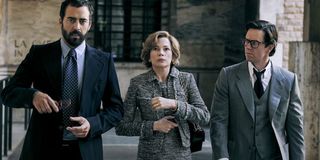 Ridley Scott's All The Money in the World has been in the news a lot lately, and not always for award season reasons. In fact, following allegations against Kevin Spacey earlier this year, Scott and the other people behind the movie ultimately chose to reshoot Kevin Spacey's scenes, inserting Christopher Plummer into the role. Then, news broke that while people were touting how the actors came back and worked for free, Mark Wahlberg actually negotiated a $1.5 million commission for the reshoots while Michelle Williams did them for a small per diem. The reason for the difference between the two co-actors' salaries reportedly has everything to do with the ways their contracts were written.
Both Mark Wahlberg and Michelle Williams are repped by WME in Hollywood. However, they don't have the same team and they didn't negotiate together for All The Money in the World. According to a new report over at The Wrap, when Michelle Williams signed, reshoots were included in her contract. Mark Wahlberg didn't sign the same contract as Williams, and the original contract he negotiated did not include reshoots. So, Williams earned a per diem while Wahlberg was able to renegotiate for more money when it came down to shoot the new footage.
In addition, TMZ is also reporting that Michelle Williams was actually approached before Ridley Scott about the possibility of reshooting before the director was even asked. As such, she seemingly negotiated before everyone else, with the outlet noting she was willing to "move mountains" to make the reshoots work because she believed in the movie. Per that report, Wahlberg was then approached and also agreed to do the reshoots. Allegedly, his team later made it clear to the studio that he would need to be paid for reshoots, which is where the eventual pay discrepancy came in. Another report over at ET has indicated that All The Money in the World was only greenlighted because Mark Wahlberg initially took a pay cut.
Following all of this, Ridley Scott went public and talked about how the actors were gracious enough to give their time and work for free. Reports now indicate he isn't particularly happy about how this whole thing has come off, although he, Michelle Williams and Mark Wahlberg have not made statements about the reshoots since the news broke.
Probably, we wouldn't even be here today if people like Ridley Scott and Michelle Williams hadn't talked about the actors working for free, but that has opened up a can of worms that made their salaries newsworthy. Regardless, it took a lot of complicated contracts and steps to get All the Money in the World reshot, and it's a testament to Ridley Scott and the studio that the movie was ready in time to hit its release date (although it did get pushed back a few days for other reasons) at all.
Amazing Race & Top Chef superfan with a pinch of Disney fairy dust thrown in. If you've created a rom-com I've probably watched it.
Your Daily Blend of Entertainment News
Thank you for signing up to CinemaBlend. You will receive a verification email shortly.
There was a problem. Please refresh the page and try again.