P.T. Anderson Confirms Mark Wahlberg Kept The Boogie Nights Penis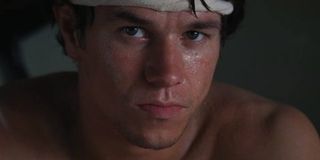 In the years since its initial release, Boogie Nights has become infamous and beloved among moviegoers for a number of reasons. It showed an early glimpse at Paul Thomas Anderson's skill as a filmmaker, it helped put Mark Wahlberg on the map as an actor, and (for some fans) the film has become iconic for porn star Dirk Diggler's fake penis. Some have wondered where the phallic prop ended up after the movie ended production, and Anderson recently decided to put that debate to rest on social media by confirming that Mark Wahlberg took it. P.T. Anderson addressed these questions on the Phantom Thread Twitter account and wrote:
So there you have it. When the time came to wrap on Boogie Nights, Mark Wahlberg was the one who got to walk away with Dirk Diggler's comically-large prop penis. It definitely seems to make sense when you think about it; at the end of the day, it is hard to imagine anyone else claiming more ownership of it than Marky Mark. And to think, Mark Wahlberg recently admitted that he almost said no to Boogie Nights when he first saw the script, because the movie could've gone very wrong if executed poorly. If he had, he would not have had the opportunity to walk away with such a singularly-unique prop.
With all of that said, Paul Thomas Anderson's tweet doesn't necessarily confirm whether or not Mark Wahlberg still has the fake penis so many years after Boogie Nights wrapped production. The Lone Survivor star recently spoke out about his time as Dirk Diggler, and admitted that he even hoped that God would forgive him for starring in the movie. However, the actor did later clarify that those comments were taken out of context, because he made them in front of a group of kids during a church event, and was merely stating that he hoped God had a sense of humor about these types of things. With that in mind, I think someone needs to directly ask the highest-paid actor of 2017 if he still has that penis lying around somewhere in his house. Maybe it is buried in the attic alongside his Max Payne guns and a Ted teddy bear.
Of course, we will keep you posted with more up-to-date information if that iconic penis ever changes hands. For now, make sure to check out Paul Thomas Anderson's latest directorial effort in the form of Phantom Thread, which is currently in theaters.
As for the films that are still to come over the course of 2018, make sure to take a look at CinemaBlend's 2018 movie premiere guide to keep yourself in-the-loop on all of the most prominent release dates!
Originally from Connecticut, Conner grew up in San Diego and graduated from Chapman University in 2014. He now lives in Los Angeles working in and around the entertainment industry and can mostly be found binging horror movies and chugging coffee.
Your Daily Blend of Entertainment News
Thank you for signing up to CinemaBlend. You will receive a verification email shortly.
There was a problem. Please refresh the page and try again.