Why Mark Wahlberg Almost Said No To Boogie Nights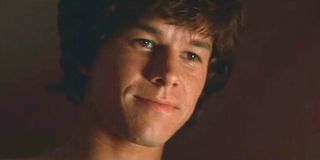 When the script for Boogie Nights fell into Mark Wahlberg's lap, you can understand why he was so apprehensive about taking the lead role as Eddie Adams/Dirk Diggler. Not only is the character a porn-star, but he becomes increasingly depraved as his drug habit spirals out of control. In fact, Mark Wahlberg was so repulsed that he originally didn't even read the script as he found the whole premise so unappealing. Mark Wahlberg recently admitted:
Eventually Mark Wahlberg heeded the rest of Tinseltown's advice and started to leaf through it. But around 35 pages into his first reading of Paul Thomas Anderson's script for Boogie Nights, Mark Wahlberg found himself struck by a conundrum. The actor immediately recognized that if Boogie Nights was handled in the correct manner, it could an astonishing piece of cinema. However, Mark Wahlberg also realized that the complete opposite was true, too, and that Boogie Nights could just as easily turn out to be complete garbage. The actor recalled:
Mark Wahlberg slowly started to be won over by Paul Thomas Anderson's screenplay, though, and decided to watch the filmmaker's previous work to help sway his decision. At the time, the only feature film that Paul Thomas Anderson had released was the 1996 neo-noir crime thriller Hard Eight, an expansion of his 1993 short film Cigarettes & Coffee. It was only when Mark Wahlberg actually sat down with Paul Thomas Anderson that he decided to take the risk and sign on for the lead role in Boogie Nights. During the same interview with ABC News, which was conducted to celebrate the upcoming 20th anniversary of the release of the movie in October, Mark Wahlberg admitted that he was offered the role immediately after reading with Philip Seymour Hoffman, John C. Reilly and Thomas Jane.
But while it took Mark Wahlberg a while to finally sign on the dotted line to portray Eddie Adams, it actually took just as long for Paul Thomas Anderson to even consider him for the part. That's because he originally offered the role to Leonardo DiCaprio, after Anderson was hugely impressed with his performance in The Basketball Diaries. Leonardo DiCaprio had to turn it down because of his Titanic commitments, while Joaquin Phoenix rejected the part as he didn't want to play a porn-star. Things finally started to come together when Leonardo DiCaprio recommended his Basketball Diaries co-star Mark Wahlberg to Paul Thomas Anderson, who, after some persuasion, finally agreed to appear.
Boogie Nights proved to be a landmark film for Mark Wahlberg, as it launched him into movie stardom and proved his credentials as a leading man, while it was the first confirmation of Paul Thomas Anderson as a cinematic luminary, a reputation he has only added to with the likes of The Master, Punch Drunk Love, There Will Be Blood and Inherent Vice.
Your Daily Blend of Entertainment News
Your Daily Blend of Entertainment News
Thank you for signing up to CinemaBlend. You will receive a verification email shortly.
There was a problem. Please refresh the page and try again.