9 Shocking Snubs From The 2018 Oscar Nominations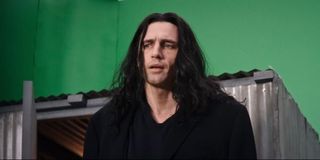 This morning the 2018 Oscar nominations were announced and, as per usual, there are far more great films and performances in them than five nominees could handle. This means many deserving nominees were left out. In most cases, this is due to a stacked field rather than any particular surprises being nominated. Still, there were a few names that we were half expecting to hear that were never called.
Here are the biggest snubs from the 2018 Academy Award nominations.
Steven Spielberg - Best Director
Steven Spielberg is one of the best directors who has ever done the job, and his most recent endeavor, The Post, served as a reminder to anybody who may have forgotten that fact. Following Spielberg's Golden Globe nomination, we would have expected to see the Academy follow suit, but that was not the case. The fact that Greta Gerwig, who was left out of the Golden Globes, received a nomination is a welcome addition to the list, but it doesn't change the fact that Spielberg was entirely worthy.
Jessica Chastain - Best Actress
Molly's Game wasn't expected to be a major contender at the Academy Awards. Aaron Sorkin received a nomination for his screenplay, which is becoming a common occurrence for the man, but the heart and soul of the film was left out. Jessica Chastain carries Molly's Game on her shoulders. She's in nearly every shot of the film, and she delivers Sorkin's Oscar-worthy dialogue with skill. If there was any other nomination that Molly's Game should have received, it was for Chastain's performance. A screenplay is only as good as the people who perform it, after all.
Wonder Woman - Best Picture
Two comic book movies did receive an Oscar nomination this morning, as Logan received a somewhat-surprising but not undeserved nomination for Best Adapted Screenplay and Guardians of the Galaxy Vol. 2 picked up a Visual Effects nod. However, the comic book character that really owned the cinema last year wasn't Logan or the Guardians, it was Wonder Woman. In a field of up to 10 Best Picture nominees, it's not uncommon for some popular films to make the cut, even if the chance of seeing a win is slight. Wonder Woman could, and should, have done exactly that. The movie was a revolution for many viewers and it was ignored.
Tiffany Haddish - Best Supporting Actress
The Best Supporting Actress category is stacked this year, there's no doubt about that. However, the most talked about supporting performance this year didn't actually come from any of these nominees. The acting surprise of the year was Tiffany Haddish in the comedy Girls Trip. It wasn't the sort of role that tends to get nominated, much less win, at the Academy Awards, but that doesn't make it any less deserving. It would have been nice to see comedy get a bit more love.
Armie Hammer - Best Supporting Actor
Timothee Chalamet received a nomination for Best Actor this morning for Call Me by Your Name, and that was not undeserved. However, the film is about a relationship between two men, and thus, Chalamet can only be as good as the person he's acting against. Armie Hammer is just as good in Call Me by Your Name and should have received a nomination alongside his co-star. With the movie picking up a Best Picture nomination as well, it shows that there was more greatness in the film than simply this one performance, but Hammer was not recognized.
Tom Hanks - Best Actor
The Post felt like a movie designed in a lab to win Oscars. It had numerous Academy Award winners both in front of and behind the camera. The thing is, there's a reason these people win awards all the time. They're just that good. Tom Hanks is that good in The Post, and while Meryl Streep did receive a nomination for her performance, Hanks did not. Similar to Steven Spielberg's snub, this one seemed pretty obvious, but apparently, the category was just a little too stacked this year.
James Franco - Best Actor
James Franco won the Golden Globe for his portrayal of Tommy Wiseau in The Disaster Artist and the film was roundly praised by critics overall. While it's impossible for everybody nominated for the Globes to get nominated for Oscars, you sort of expect the winners to make the cut. That didn't happen here, and there's no way to avoid looking at that as a snub. Franco embodies Tommy Wiseau in an absolutely mesmerizing way. It's a remarkable performance that was worthy of recognition.
The Florida Project - Numerous Categories
While The Florida Project wasn't released during "awards season," when it was released earlier this year it was looked at as a very strong early Oscar contender. Cut to the nominations today, and all the movie received was a single nomination for Best Supporting Actor for Willem Dafoe. Florida Project could have seen additional acting nominations, as well as nods for its screenplay, nevermind Best Picture. It's nice that the film wasn't entirely forgotten, but one gets the impression if it had been released later in the year, it would have received more recognition.
The Disaster Artist - Best Picture
Since the Oscars can nominate up to 10 films for Best Picture, there are a lot of movies that you can sort of expect to be nominated any given year. The Disaster Artist was one of those films, and yet, it somehow didn't make the cut. The screenplay was good enough for a nomination, but that's all it ended up with. It's surprising because there is usually little that the Oscars love more than movies about making movies. While The Disaster Artist isn't about making a good movie, it is, itself, a good movie.
Watch all the Oscar contenders on FandangoNOW (opens in new tab)!
Content Producer/Theme Park Beat
CinemaBlend's resident theme park junkie and amateur Disney historian. Armchair Imagineer. Epcot Stan. Future Club 33 Member.