Tom Hanks And Rita Wilson Are Celebrating 29 Years Together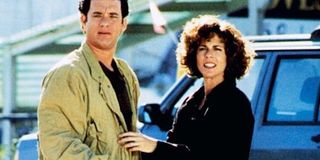 Hollywood royalty Tom Hanks and Rita Wilson are celebrating 29 years of wedded bliss. At the premiere of Hanks's new movie The Circle, the Hollywood power couple received questions about their plans for the anniversary, and Hanks had a sweet response. Check out how he responded in style:
We love that answer. Tom Hanks and Rita Wilson did not dish much about their long-lasting relationship when E! asked about the 29th anniversary. However, Hanks did weave talk of their first date into the conversation. Before the premiere, news had broken about the passing of film director Jonathan Demme, with whom Hanks had worked. In the interview, Hanks mentioned that he took Wilson to see Demme's concert film Stop Making Sense for their first date.
The relationship kicked off after Tom Hanks and Rita Wilson both starred in the film Volunteers, and the wedding happened not long after in 1988. It marked Wilson's first marriage and the second for Hanks, who had been married to late actress Samantha Lewes from 1978 to 1987. Thus, Wilson is the stepmom of Hanks's two children from his previous marriage, and Hanks and Wilson also share two children of their own.
The level of commitment in Tom Hanks and Rita Wilson's relationship has long been palpable. Before they married, Hanks converted to the Greek Orthodox Church because Wilson and her family are devout members. They have retained that same level of commitment throughout their years together. For example, in 2015, Rita Wilson underwent a double mastectomy after receiving a diagnosis of breast cancer. Wilson issued a statement about her recovery, and she revealed her "loving, supportive husband," Tom Hanks, had been right by her side, attending to her with devotion. Afterward, Wilson expressed beautiful words of gratitude for him, saying,
Tom Hanks previously indicated that he always knew there was something "crazy great" about Rita Wilson. He explained that he met her and knew there was "something cooking" between them right away. Hanks once said he and Wilson also "got married for all the right reasons", which has helped them keep their union rock solid. He said the secret to their marriage is always telling the truth. The movie star has said his love for his wife has only grown over the years, and these days she makes him laugh more than ever.
Another interesting tidbit Tom Hanks once revealed is that he and Rita Wilson's marriage is young compared to the marriages of the people in their inner circle of family and friends. According to Hanks, he and Wilson are "the young pups." Apparently, the secret to their marriage is devotion, honesty, humor, and supportive friends whose marriages have lasted longer than theirs. Congratulations, Tom and Rita!
Your Daily Blend of Entertainment News
Thank you for signing up to CinemaBlend. You will receive a verification email shortly.
There was a problem. Please refresh the page and try again.