How Solo: A Star Wars Story Might Subtly Call Back To Empire Strikes Back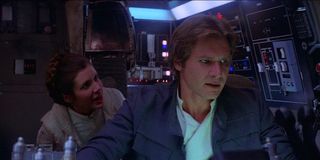 Han Solo was tragically killed in 2015's Star Wars: The Force Awakens, but our time with the roguish protagonist on the big screen isn't over yet. With only three months to go until it hits theaters, and following the TV spot that aired during the Super Bowl yesterday, Disney and Lucasfilm finally released the first Solo: A Star Wars Story trailer earlier today, giving us our first good looks at Alden Ehrenreich's Han Solo, Donald Glover's Lando Calrissian and a whole lot more. However, of all the action packed into this preview, it was the very end that caught my eye, as it seemingly called back to when Han had to escape from a space slug in The Empire Strikes Back. Let's take another look at this final Solo trailer moment before going further.
For those who haven't watched The Empire Strikes Back in a while and need a refresher, after Han, Leia, Chewbacca and C-3PO were unable to make the jump to lightspeed after fleeing Hoth, Han was forced to evade from the Imperial forces on their tail. They temporarily found some peace and quiet when they landed the Millennium Falcon inside one of the caverns in a giant asteroid. Or at least where they thought they'd landed. It turns out they had actually flown into a gigantic space slug, officially known as an exogorth, and it was only when Han started shooting down mynocks that Han realized where they really were. Not wasting any time, Han got everyone back on board and flew out of the belly of the beast before it closed its mouth and ate them for good. Cut back to today's Solo: A Star Wars Story trailer, and you'll see that the younger Han (joined by Chewbacca, Lando Calrissian and Qi'Ra) is forced to maneuver around a similarly-large creature while avoiding Imperial entanglements.
To be perfectly clear, I'm not suggesting that the creature shown in the Solo: A Star Wars Story and the space slug in The Empire Strikes Back are one and the same. But the Star Wars galaxy is a big place, and no doubt there's more than just one kind of alien monstrosity that's able to survive up in space/a planet's upper atmosphere. I also suspect that these kind of creatures aren't too common, which is why Leia was so shocked when Han said in The Empire Strikes Back that the cave they were escaping wasn't actually a cave. Since Han Solo will run into one of them in his standalone movie, presumably this how he was able to deduce in The Empire Strikes Back that he and his friends were inside a space slug once the shaking start. I take it from the Solo: A Star Wars Story footage that Han and band of rogues won't have to worry being swallowed so much as being smacked down by a giant tentacle.
Solo: A Star Wars Story blasts its way into theaters on May 25. If you're curious about what other movies will be released this year, check out our 2018 premiere guide.
Connoisseur of Marvel, DC, Star Wars, John Wick, MonsterVerse and Doctor Who lore. He's aware he looks like Harry Potter and Clark Kent.
Your Daily Blend of Entertainment News
Thank you for signing up to CinemaBlend. You will receive a verification email shortly.
There was a problem. Please refresh the page and try again.