How The Millennium Falcon May Look Different In The Han Solo Movie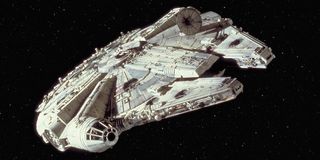 The Han Solo movie plans to shed light on a lot of the eponymous protagonist's past next year, including how the exact circumstances of how he obtained his infamous ship, the Millennium Falcon. Solo and the Falcon go together like Batman and the Batmobile; it's difficult not to imagine one without the other. But there was indeed a time when that spacecraft didn't belong to him, and apparently when the Falcon shows up next year in Han Solo's origin story, it may not look exactly like how we usually picture it due to a fresh paint job and a special attachment.
Even though the Millennium Falcon is one of the fastest ships in the Star Wars universe, it looked worse for wear when it was introduced in A New Hope. As Luke Skywalker exclaimed, "What a piece of junk!" Well according to MakingStarWars, the Falcon will look significantly more reputable in the Han Solo movie, as it will supposedly have a white base coat of paint with blue detailing all over. In addition, there is apparently an attachment that can be hooked onto the front of the ship which elongates and can hold cargo. However, in case any Imperial problems present themselves, this extra feature can also be quickly detached so that those on the Falcon can make a quick getaway.
In the official Star Wars canon, all we know about Han's acquisition of the Millennium Falcon was that he won it from Lando Calrissian in a game of sabaac. Since Lando is also appearing in the Han Solo movie, presumably he'll be the one flying the brand-new Falcon. Though if this movie is as action-packed as we're expecting it to be (as one would want from any Star Wars movie), then no doubt the Falcon will take a beating during the story, and as times passes, that paint job will slowly wear away with each new ding and blaster hit. As for that special attachment for the front of the Falcon, this gives us a better idea of how Han was able to transport goods during his smuggling days. If I had to guess, Han eventually lost this when he dropped Jabba the Hutt's shipment to escape being captured by the Empire.
Taking place years before he met Luke Skywalker and Obi-Wan Kenobi in the Mos Eisley Cantina, the Han Solo movie will follow Han's adventures in the galaxy far, far away's criminal underworld. The main cast includes Alden Ehrenreich, Donald Glover, Woody Harrelson, Emilia Clarke, Joonas Suotamo, Thandie Newton, Phoebe Waller-Bridge, Ian Kenny, Warwick Davis, Clint Howard and Paul Bettany. 21 Jump Street duo Phil Lord and Chris Miller were the original directors, but following their sudden exit during principal photography due to creative differences, Ron Howard was hired as their replacement.
The Han Solo movie blasts its way into theaters on May 25, 2018. Before that, you can get your Star Wars fix with The Last Jedi's release on December 15.
Connoisseur of Marvel, DC, Star Wars, John Wick, MonsterVerse and Doctor Who lore. He's aware he looks like Harry Potter and Clark Kent.
Your Daily Blend of Entertainment News
Thank you for signing up to CinemaBlend. You will receive a verification email shortly.
There was a problem. Please refresh the page and try again.