Where Solo: A Star Wars Story Fits On The Timeline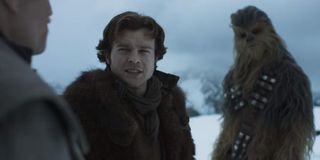 We all know that Solo: A Star Wars Story will take place before the original film trilogy, but that period covers a lot of ground. We now know exactly where in the Star Wars timeline the movie takes place. Random House, the publisher of all of the official canon Star Wars books under Disney has a complete Star Wars timeline, and they place the novelization of Solo, and therefore the film itself, not simply before the trilogy, but the Star Wars Rebels TV series and all of its associated books.
For all the well-loved material that was lost when Disney officially excised the expanded universe from Star Wars canon, the upside was that the timeline has become a lot cleaner, at least for now. We have nine movies with a clear progression, two television series that are clearly set during specific points in time, and we've been getting a fresh series of books that fill in some of the gaps. While Rogue One, the other Star Wars Story made its point in the timeline clear, Solo has been vaguer. The Random House timeline, however, specifically sets Solo, and it's prequel companion novel Last Shot, after the events of the novel Tarkin, which tells the story of the Grand Moff prior to Rogue One, and Thrawn, the book about the Star Wars villain who was reintroduced to canon as part of Star Wars Rebels.
The events of Star Wars Rebels begins five years prior to the events of Star Wars: A New Hope. Tarkin is primarily set 14 years prior to the Battle of Yavin, which means we're looking at a gap of nearly a decade where Solo could be taking place. Odds are we're leaning more toward the Rebels end of the timeline because Han Solo isn't that old. Of course, we never really learn how people in this part of the galaxy age, so it's technically possible Han could be a lot older than we think.
Since Rogue One took place immediately before the original trilogy began, it was taking place in a galaxy that looked just like the one we'd seen before. However, Solo taking place five years or more before those events could show us a place that's very different from what we know. What sort of state is the rebellion in at this early date? Is it even all that organized? Depending on exactly how long before Rebels this movie is set it could look very different from what we know, assuming we see it at all.
Solo: A Star Wars Story is certainly looking to be the very different Star Wars movie we've always expected. We'll see just how when the movie debuts May 25.
CinemaBlend's resident theme park junkie and amateur Disney historian. Armchair Imagineer. Epcot Stan. Future Club 33 Member.
Your Daily Blend of Entertainment News
Thank you for signing up to CinemaBlend. You will receive a verification email shortly.
There was a problem. Please refresh the page and try again.