Why Solo: A Star Wars Story Should Be Delayed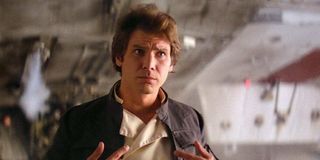 As crazy as it may seem, we already have another Star Wars film set to debut within the next six months. Solo: A Star Wars Story is supposedly aiming to premiere on May 25, 2018, but that raises the serious question as to why we haven't seen any footage yet. Given the fact that Ron Howard stepped in to replace Phil Lord and Chris Miller over the summer -- when the movie was already close to completion -- the fact that no trailer has dropped yet could be cause for concern among fans as the May release date closes in on us.
But why does it even have to debut on May 25, 2018 at all? Today, we're going to dive into the reasons why Disney and Lucasfilm should delay Solo: A Star Wars Story. There are a few key points to address here, so let's get started with the fact that the Star Wars franchise already seems quite comfortable in the holiday season.
Star Wars Already Owns December
Over the course of the last three years, many fans have become accustomed to the debut of a Star Wars movie during the holiday season. The franchise previously called May home (which Solo: A Star Wars Story intends to revive), but the last two Saga films and Rogue One: A Star Wars Story have seen great success by going relatively unopposed in the middle of December -- not that anyone would want to oppose a Star Wars movie anyway.
Considering how much success Star Wars: The Last Jedi just saw with a December 15 release, there's really no reason to switch things up. By delaying the Han Solo movie to similarly debut in December, Disney and Lucasfilm would not only continue to monopolize winter, but they would also offer Ron Howard extra time to work on the movie and deliver a good product at a date that many fans expect. December will continue to work just fine.
Disney Already Has Infinity War In May
Of course, many of us already know that the Star Wars franchise is just one of many facets of the overarching Disney machine, another of which is the behemoth Marvel Cinematic Universe. That is important to note because Disney should not necessarily be in a huge rush to push Solo: A Star Wars Story to a May 2018 release when it already has Avengers: Infinity War slated to debut in theaters on May 4, 2018.
By most reasonable estimations, the next Avengers movie is widely expected to become a significant cash cow for the mouse, which could handily take a burden off of Star Wars and make room for a delay. Now May is covered. Besides, what's the one thing better than a highly-successful summer blockbuster? Having another significant and successful blockbuster come out on the other side of the year to end things on a high note.
More Time To Perfect The Film Is Never A Bad Thing
Not to throw another franchise under the bus, but 2017 has already provided us with a perfect example of what happens when a movie is allowed to debut in theaters without giving a filmmaker enough time to finish it. When Justice League premiered in November, it was abundantly clear that much of the CGI wasn't completed and a number of plot issues hadn't been worked out in Joss Whedon's expensive reshoots.
That cannot be allowed to happen in Solo: A Star Wars Story -- a movie that has already suffered quite a bit of bad press because of behind-the-scenes issues. There is no such thing as too much time to get a story right (just ask Christopher Nolan, and the 7 years he had to make all of the beloved Dark Knight trilogy), and an extra six months feels like a small price to pay for a movie that could possibly use the help.
Fans Will Forgive Lucasfilm
Last, but certainly not least, we need to address the fact that fans likely won't hold it against Lucasfilm if Solo: A Star Wars Story doesn't debut in theaters on time. What they're much less likely to forgive is a film that feels rushed into theaters in order to meet a release date. All fans really want is a good movie that honors the legacy of the character introduced in A New Hope.
Many fans have waited their entire lives to see a movie based on the exploits of our favorite Corellian smuggler, and while pushing it by six months to ensure proper quality control will likely cause an online uproar, that uproar will pale in comparison to the anger created by a film that could've been improved with some extra time to workshop it to perfection. Han Solo is a beloved character in a beloved universe, and Lucasfilm needs to make sure that he's handled correctly.
This poll is no longer available.
Your Daily Blend of Entertainment News
Originally from Connecticut, Conner grew up in San Diego and graduated from Chapman University in 2014. He now lives in Los Angeles working in and around the entertainment industry and can mostly be found binging horror movies and chugging coffee.