Predicting Marvel's Phase 4 Movies, Knowing Only The Release Dates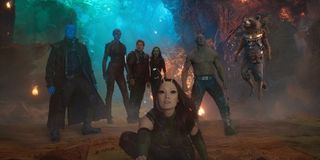 Disney's release slate recently was filled with movies all the way up to 2023 with promises of theaters full of Pixar, Disney Animation, live action remakes, and, most important to this list, Marvel movies. Disney has slated seven untitled Marvel movies for the next few years, leaving fans to speculate just what these titles can be. Phase 4 is anyone's game at this point, but there are some key sequels and titles that are certainly making the game.
It's important to note that Avengers 4, for whatever reason, is not included on this slate -- even though Avengers: Infinity War is. The untitled Avengers movie hits theaters May 3, 2019. And we have one official Phase 4 movie on the books. Tom Holland's Spider-Man: Homecoming 2 has a release date of July 5, 2019, making this the first movie of Phase 4. While release dates are always subject to change (as we recently were reminded), we do know a few other Phase 4 movies that are definitely coming. The rest is pretty much speculation, and while Marvel likely won't announce these titles until after Avengers 4, that can't stop us from guessing what's in store for the next few years.
Guardians of the Galaxy Vol. 3
Release Date: 7/31/20
Guardians of the Galaxy Vol. 3 is the only Phase 4 movie that's but talked about in any definitive terms, with James Gunn returning to write and direct the third movie in one of Marvel's top franchises. We know that the movie is aiming for a 2020 release date, but not the specific date. While Guardians is big enough to open in May (which usually has a high-tier Marvel movie), opening in July isn't a bad spot. Seeing as how Vol. 3 is likely further along in the development process than other projects, it'll hit theaters sooner rather than later. Honestly, I feel like Marvel is hiding a release date for May 2020, which would be an ideal spot for Vol. 3.
Black Panther 2
Release Date: 5/7/21
Oh, you better believe a Black Panther sequel is coming. This movie has dominated in just about every single way and Marvel is probably already doing everything they can to schmooze Ryan Coogler back into the director's chair. It's one of the biggest success stories in Marvel's filmography so they aren't going to be sitting on it for long. The typical waiting period between Marvel sequels is usually three years, so 2021 feels right. Putting the movie in May makes sense given how much it made in February, which used to be viewed as a kind of "off-season" for movies. If it did that well in an off-season, imagine what it could do opening the summer.
Black Widow
Release Date: 7/30/21
Fans (and Scarlett Johansson) have been asking for a Black Widow movie for years, and Marvel finally found time in their busy schedule to begin developing it. The project has a writer attached and while nothing is set in stone, a Black Widow movie has never been closer. With that in mind, July 2021 feels like the right spot. It's right in the middle of the summer season and positions Black Widow as a tent pole. The character is more than worthy of her own film and with the demand for more female-fronted movies stronger and louder than ever, it's time for Black Widow to take her spotlight.
Doctor Strange 2
Release Date: 11/5/21
No sequel has yet been confirmed for Doctor Strange, but giving Marvel's track record and the success of the solo film, it's a safe bet that it will be arriving in Phase 4. It'll have been five years since the debut of the first movie, which is a big gap, but the character will feature prominently in Avengers: Infinity War and Avengers 4, so it's not like he'll have disappeared from audience's minds. The Master of the Mystic Arts proved popular with fans and there's definitely more ground to explore in Strange's crazy world of magic and otherworldly forces.
Captain Marvel 2
Release Date: 2/18/22
Brie Larson's Captain Marvel has yet to make her debut in the MCU, but when she does, you can bet Marvel is going to make it a big one. While it's still way early in the game, it's likely that a sequel will be greenlit for Marvel's first major heroine to headline a movie. Black Panther obviously found lots of success in February and there's no real reason to think that Captain Marvel 2 won't either. This one's still difficult to judge because we haven't even met the character yet, but I'd be very surprised if Marvel Studios wasn't positioning this character for big things in the future.
A New Avengers Movie
Release Date: 5/6/22
We have no idea what the state of the MCU will be following Avengers 4, but we can at least bet that the Avengers franchise will keep on ticking. Several MCU characters are likely to be retired at the end of Phase 4, so we can probably look forward to an all-new team of Avengers to lead us through the next decade of Marvel movies. Heroes like Black Panther, Captain Marvel, and Doctor Strange are great candidates to serve on the new team -- not to mention a certain Web-Head. There's also the potential that Marvel will introduce new characters to join the roster as well, but as to who they would be is anyone's guess.
Ant-Man And The Wasp 2
Release Date: 7/29/22
I guess technically this would be Ant-Man 3 but keeping with the Ant-Man and the Wasp title scheme just makes things less complicated. It's unknown if Marvel is going to give Ant-Man one last go, but given that the studio likes to cap things off with trilogies, it's not so crazy to think that Ant-Man and the Wasp 2 could happen. Plus it arrives in the Ant-Man tradition of releasing right after an Avengers movie as a nice cool down for moviegoers. We've only seen very little of Ant-Man and the Wasp so far, but all evidence points to it being another entertaining and silly addition to the MCU.
Your Daily Blend of Entertainment News
Matt has lived in New Jersey his entire life, but commutes every day to New York City. He graduated from Rowan University and loves Marvel, Nintendo, and going on long hikes and then greatly wishing he was back indoors. Matt has been covering the entertainment industry for over two years and will fight to his dying breath that Hulk and Black Widow make a good couple.
Your Daily Blend of Entertainment News
Thank you for signing up to CinemaBlend. You will receive a verification email shortly.
There was a problem. Please refresh the page and try again.