7 Good Actors Who Are Evolving Into Great Directors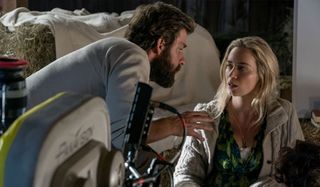 In Hollywood, it often feels like every person is gunning for an opportunity in the director's chair, but few prove to be truly great at it. The job is immensely challenging, requiring both clear vision and skillful organization, and not everyone has a strong enough combination of those skills to create a truly great movie. Every year we see at least one young actor step up to the plate and miss. At the same time, however, it should also be recognized that we've seen more than a few hit home runs in recent years, and it's those filmmakers who we are here to recognize today.
Looking back at the last 10 years and taking into consideration individuals under 45 who have helmed three or fewer titles, we've put together a list of the most promising actor-cum-directors currently emerging in Hollywood. These are all performers who have shown incredible promise behind the lens with some truly impress work, and we'll kick things off with the most recent revelation:
John Krasinski
A Quiet Place is not John Krasinski's directorial debut, as he previously made both Brief Interviews With Hideous Men in 2009 and The Hollars in 2016. That being said, it is a film so phenomenal that it alone merits him position on this list (and, full disclosure, he's also what inspired it). His first venture into the horror genre is an incredible exercise of filmmaking craft, as it's a cinematic experience with remarkable tension and sensory manipulation.
There's an endless list of actors who were unable to escape the shadow of the sitcom role that made them famous, and the reality is that we will always recognize John Krasinski as Jim from The Office. That being said, if he can continue creating films like A Quiet Place then we may ultimately see his career in two distinct lights -- and we absolutely hope that will be the case. He's already lined up his next project, the sci-fi feature Life on Mars, and there's great hope that he will develop as one of the art form's next great genre artists.
Jordan Peele
The list of filmmakers who earned Best Director nominations with their feature debuts is a short one, and notably includes names like Orson Welles, Sidney Lumet, Mike Nichols, and Robert Redford. We saw that list grow these past few months thanks to the success of Get Out, though, as the movie has revealed and immediately cemented Jordan Peele as one of the most exciting filmmakers working in Hollywood. He spent years making audiences laugh, particularly in sketch comedy through his collaborations with Keegan-Michael Key, but now he has demonstrated some extreme range, and we can't wait for more.
More than just a startling and remarkably poignant horror film, Get Out is easily one of the richest cinematic experiences of recent memory, with Jordan Peele examining every detail like a surgeon and making it endlessly enjoyable to rewatch. That kind of meticulous attention is a rare and tremendously exciting quality to possess, and we can't wait to see how Peele brings that talent to the next movie that he directs -- a project that is already in development, but does not yet have a title.
Greta Gerwig
Greta Gerwig has been a favorite among the indie crowd set from the very beginning of her career, her collaborations with Noah Baumbach and Joe Swanberg delivering acclaimed work like Frances Ha, Nights and Weekends, and Mistress America. She's earned notoriety for her work in front of the camera and as a scribe -- but her career inarguably reached new heights in 2017 with the release of Lady Bird. It marked her first time directing a film solo, and she delivered not only one of the most critically-lauded works of all time, but a movie worthy of both a Best Director and Best Picture nomination.
With Lady Bird, Greta Gerwig had the opportunity to tell a story very close to her heart, and her personal connection to the story comes through in every frame -- resulting in a wonderful and powerful experience. It hasn't been announced yet what she will be taking on as her next directorial effort, but it goes without saying that people will be paying very close attention.
Jim Rash & Nat Faxon
As Groundlings alumni and in playing various supporting roles, Jim Rash and Nat Faxon have individually been making audiences laugh for years -- but in 2011 they revealed an entirely new talent as a pair. Collaborating with Alexander Payne, they wrote the script for the brilliant dramedy The Descendants, and not only did their efforts result in an Academy Award, but it led to them making their excellent directorial debuts with The Way, Way Back in 2013.
Featuring a fantastic ensemble cast including Steve Carell, Allison Janney, Sam Rockwell, Toni Collette, Maya Rudolph and more, The Way, Way Back is a wonderful coming of age story about a teenager (Liam James) taking a summer job at a water park, and it's as funny as it is touching. Unfortunately it didn't get quite the attention that many of the other projects featured in this list did, and Jim Rash and Nat Faxon haven't directed a movie since, but that simply finds us in a persistent state of anticipation for their next collaboration.
Taylor Sheridan
Taylor Sheridan has been a television actor for decades. He got his first professional part on a Walker, Texas Ranger back in 1995, and spent years doing one-off episodes of various shows before getting recurring roles on Veronica Mars and Sons of Anarchy. He found success... but it honestly pales in comparison to what he's been doing as a writer and director these past few years. The man has been on a remarkable tear since 2015, and it's resulted in the fantastic thrillers Sicario, Hell or High Water and Wind River.
While directing duties on Sicario and Hell or High Water were left to Denis Villeneuve and David Mackenzie respectively, with Taylor Sheridan taking care of the scripts, he took the helm for Wind River and crafted one of the best films of 2017. The man has quickly proven himself as an incredible craftsman when it comes to suspense, and the speed with which the quality work has been released is nothing short of spectacular. His next work has taken him back to the small screen, developing the new series Yellowstone, but the fact that he's written and directed the entire run has us anticipating it to be one of the best shows of the year.
Seth Rogen
Despite the fact that Seth Rogen technically qualifies as a former child actor, starring in Freaks and Geeks at age 17, he has actually worn multiple hats in the industry for almost his entire career. By 19 he was writing scripts for the television show Undeclared in addition to playing one of the main parts, and before breaking out in The 40-Year-Old Virgin and getting Superbad and Pineapple Express made he was behind the scenes on The Ali G Show. Audiences naturally grew to recognize him primarily for his work in front of the camera in the last two decades -- but not to be undersold is the recent awesome work he's been doing as a director.
In 2013 he collaborated with his longtime writing partner Evan Goldberg to make This Is The End as their directorial debut, and they wound up making one of the best modern studio comedies. And while it was a movie totally bathed in controversy, their follow-up, The Interview, is actually an incredibly funny film when you dismiss all of the baggage. Since then Seth Rogen's directorial skills have been mostly utilized on the small screen, helming some of the best stylized material on television in episodes of his show Preacher, but we're excited to see him eventually bring his talent back to cinema.
Your Daily Blend of Entertainment News
Assistant Managing Editor
NJ native who calls LA home and lives in a Dreamatorium. A decade-plus CinemaBlend veteran who is endlessly enthusiastic about the career he's dreamt of since seventh grade.