How Much More Expensive Jordan Peele's Next Movie Will Be Than Get Out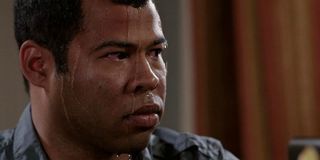 The huge success of Get Out earlier this year suddenly turned Jordan Peele into one of the most desired directors working in Hollywood. It hasn't taken long for Jordan Peele to pick his next movie, either, because the first details of his sophomore effort have now started to emerge, the most intriguing of these is that his next movie should cost around $25 million to make, which is five times more than Get Out's $5 million budget.
Clearly Jordan Peele is already using the huge success of Get Out to good effect, as his next film will see the director tackling a more ambitious project that is larger in scope and scale than its predecessor. Unfortunately details regarding the film are still at a premium, but what we do know is that it is a social thriller that he will write, direct, and produce. Those of you hoping to gleam more information out of its title are out of luck, because Jordan Peele hasn't quite decided on what his next film will actually be called.
What we do know is that Universal Pictures is the lucky studio that managed to seduce Jordan Peele, as he has signed a two-year deal with the company that gives it first refusal of this film. Universal had to fight off the attention of a number of their Hollywood rivals to land Jordan Peele, too, as THR also revealed that nearly every studio has been in pursuit of the filmmaker ever since Get Out hit cinemas, but Universal pushed harder. Such an approach is understandable, because not only did the horror, thriller, comedy hybrid bring in over $194 million across the world from just a $5 million budget, but it also became something of a pop culture phenomenon with fans, too.
In the immediate aftermath of Get Out's release there were suggestions that Jordan Peele might turn his attention to directing a live-action version of Akira, the budget of which almost certainly would have been more than $25 million and would likely be set up at another studio. This announcement, however, suggests that Jordan Peele is looking to progress his directorial career one step at a time. If Jordan Peele had directed Akira, and the film had failed, then his career may have endured a set-back. Instead Jordan Peele has decided to stick with a thriller. It seems like the right choice, because Hollywood is littered with directors that have sunk before they could swim, and it would have been a disaster and a waste if Jordan Peele had fallen into such trappings. At least that's my take. We'll let you know as soon as this project pans out.
Your Daily Blend of Entertainment News
Thank you for signing up to CinemaBlend. You will receive a verification email shortly.
There was a problem. Please refresh the page and try again.