Could Steven Spielberg's DC Movie Connect To Wonder Woman?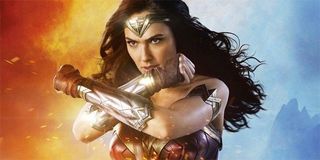 It finally happened, folks. After years of wondering if Steven Spielberg would ever get his hands on a comic book property, the Ready Player One director has decided to join the DC world. The legendary filmmaker is now involved in developing a Blackhawk movie for DC, which will take him all the way back to the Golden Age of comic book stories. We still don't know much about what Blackhawk will look like in its final form, but information that surfaced last year has us wondering if it could potentially link to Patty Jenkins' Wonder Woman.
To get a better sense of what we're looking at here, we need to circle back to last year in the leadup to the release of Wonder Woman. Specifically, we need to look at one specific post made by Sameer actor Said Taghmaoui in which he placed a photo of himself in Wonder Woman side-by-side with Blackhawk from the comics. Check it out, below.
Though that photo seemed to imply a specific connection between Sameer and Blackhawk, Wonder Woman never formally mined the idea for story material. That said, the similarities between a Sameer and Blackhawk are hard to ignore. Both are skilled spies/soldiers known for conducting clandestine operations in the early portion of the 20th century, and they even share strong visual similarities with each other. Moreover, the decision to share that photo (featuring a decidedly deep cut character, no less) ahead of the release of Wonder Woman seems like a potential indication of a more profound connection to the Blackhawk squadron than we previously realized (even if Wonder Woman never addressed it).
In terms of narrative significance, there's plenty of room for DC to make this work. Wonder Woman takes place in WWI, and Diana Prince (Gal Gadot) disappeared for a century to mourn the death of Steve Trevor (Chris Pine). That said, the wars didn't end with her disappearance, so there's quite a bit of room to keep exploring how soldiers like Sameer, Charlie (Ewan Bremner), or Chief (Eugene Brave Rock) continued to fight. With Steven Spielberg's Blackhawk potentially gearing up to take on WWII as its setting (which would match the bulk of the comics), the film could represent the next logical step from where Wonder Woman left off.
Stylistically speaking, it would also make quite a bit of sense for Steven Spielberg's Blackhawk movie to share some connections with Wonder Woman. Patty Jenkins seemingly borrowed quite a bit of DNA from Spielberg's own work on films like Raiders of the Lost Ark in the creation of a swashbuckling period piece full of action and comedy. The Wonder Woman corner of the DCEU already has Spielberg's fingerprints all over it, so bridging that gap likely wouldn't be too difficult.
Of course, with all of that said, we still have no idea of Steven Spielberg's Blackhawk movie will actually connect to Wonder Woman when all is said and done.Though the DCEU will continue to expand with the upcoming releases of films like James Wan's Aquaman, David F. Sandberg's Shazam!, and Patty Jenkins' Wonder Woman 2, Warner Bros. is also in the process of developing standalone stories like Todd Phillips' Joker movie. The Blackhawk film could fall under either of these banners, so we will have to wait and see.
On that note, make sure to keep an eye on the DC world when James Wan's Aquaman premieres in theaters later this year on December 21. Beyond that, check out our 2018 movie premiere guide to stay up-to-date on all of this year's biggest film premieres!
This poll is no longer available.
Originally from Connecticut, Conner grew up in San Diego and graduated from Chapman University in 2014. He now lives in Los Angeles working in and around the entertainment industry and can mostly be found binging horror movies and chugging coffee.
Your Daily Blend of Entertainment News
Thank you for signing up to CinemaBlend. You will receive a verification email shortly.
There was a problem. Please refresh the page and try again.