Why Marvel Fans Need To See The Marvel: Universe Of Superheroes Exhibit In Seattle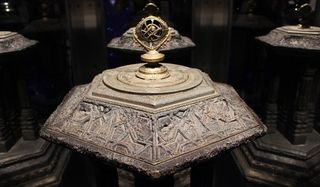 It is an incredible time to be a Marvel Comics fan. While it was just a few decades ago that the company was in serious trouble and declaring bankruptcy, it has since managed to climb back and establish itself as one of the most important brands in the world across all mediums. It's a remarkable thing to see for someone who has appreciated the various heroes and villains of the universe for years, as we are not only getting insanely exciting blockbusters like the upcoming Avengers: Infinity War, but seeing the exposure of fantastic events like Marvel: Universe Of Superheroes -- a brand new, spectacular exhibit opening in Seattle, Washington's Museum of Pop Culture.
Why can I say that it's spectacular? Because while the exhibit doesn't actually open until Saturday, April 21st, this week I made a special trip up to Seattle to take an early peak at what's in store. What I discovered is a dreamland for Marvel fans, not only highlighting the important history and work behind the comics, but also being super fun and exciting. It's a must-see for anyone who truly loves these characters and this world, and below and across the next few pages I will be explaining why -- starting with...
The Pieces Of Artwork They Have Are Spectacular
As you'll discover as you continue reading this article, there are many different facets to the Marvel: Universe Of Superheroes exhibit, but unquestionably the most fascinating is the classic artwork that has been collected As I was toured around the museum by Chief Curator Benjamin Saunders, a professor of English at the University of Oregon, I had the chance to be mere inches away from original copies of some of the most important panels and covers ever drawn for Marvel Comics by some of the most influential artists of all time. From John Romita Sr.-drawn concept art of The Punisher, to Bill Sienkiewicz's stunning New Mutants redesign, to Jim Starlin's introduction of Thanos, it all comes from different eras of Marvel, and the material is jaw-dropping to see in person.
These iconic drawings are displayed throughout the entire exhibit, but there is one particular piece that deserves special mention. While most of the art is on loan from private collectors, one incredibly special piece is being borrowed from the Library of Congress - and it's the first image in the gallery below. The page comes from the Stan Lee-written, Steve Ditko-drawn Amazing Fantasy #15, and is the first time that Spider-Man is depicted not only using his webshooters, but wearing his costume. It's a special thing to behold.
Image 1 of 13
The Movies Are Very Well Represented
There is no question that the cultural takeover by Marvel Comics has been motivated by the incredible success of recent film adaptations, and that's certainly not something that the Museum of Pop Culture exhibit ignores. While there is certainly a heavy focus on the source material and the incredible men and women who first created the characters, much credit is also given to the filmmakers who helped intensify their popularity in the last 10 years. One of the first displays as you start walking through is a cabinet featuring three different costumes from Ryan Coogler's Black Panther - including T'Challa, Okoye and Shuri - but various character stations are featured throughout.
It is worth mentioning that most of the movie-related material comes from the Marvel Cinematic Universe, and there isn't a ton of attention paid towards the material that preceded it (I didn't see any references to Willard Huyck's Howard The Duck, for example). There is a Green Goblin helmet and pumpkin bomb from Sam Raimi's original Spider-Man trilogy, but even that case is shared by Michael Keaton's Vulture helmet from Spider-Man: Homecoming. It would have been nice to see a more diverse collection in this arena, but it's a relatively minor quibble when you take into consideration the material that is brought together.
Image 1 of 10
There Are Some Fantastic Interaction Stations
The material that inspired MoPop's Marvel: Universe of Super Heroes exhibit makes the whole experience fun in its own right, but adding a lot to the walkthrough are various setups that allow you to actually interact with the various setups. As part of the introduction to the Fantastic Four, for example, folks can take a seat next to a snoozing The Thing and take pictures against a video backdrop (the window frequently shows fun animations, such as Captain Marvel flybys and Galactus stomping through town). There are also many digital displays scattered throughout, allowing visitors to learn about the various members of teams like the Young Avengers, or explore the many different kinds of arrows that Hawkeye uses.
Without question the best interactive space can be found in the section about the history of Iron Man. There is a special augmented reality space, and when you stand on a certain spot you watch on a monitor as Tony Stark's armor attaches itself to you. From there you can fly around the room, and use repulsor beams to shoot at targets. It's guaranteed to be an immensely popular part of the exhibit, and you definitely need to give it a go during your visit.
Image 1 of 3
You'll Learn A Lot About The History Of Marvel And Its Massive Global Impact
In case it's not clear, the Marvel: Universe of Super Heroes exhibit is a whole lot of fun - but it also does an amazing job simply teaching visitors about both the history of Marvel Comics, the development of the artform, and the role that the books have played in the world for the last 79 years. Everything begins with a look at the broadsheet Flash Gordon comics that helped inspire what Marvel would eventually become, and that's followed by a look into how Jack Kirby and Joe Simon used Captain America to help change the nation's views about entering World War II. There's a great display about "Seduction of the Innocent" and the fear of comics instilled by Dr. Frederic Wertham, but also a wonderful showcase celebrating how Marvel fans have connected with the material over time, including fan clubs, trading cards, and Halloween costumes.
All together, the Museum of Pop Culture's Marvel exhibit is an excellent ride, and is not only a thrill for die-hards, but a perfect experience for anyone who is just starting to dip their toe into the world. And while not everyone can immediately make their way to Seattle, the good news is that it's going to be around for a while - set to stick around until January 6, 2019. If you have the opportunity, it's a trip worth pursuing.
Image 1 of 6