Why Thanos Believes He Should Wield The Gauntlet In Avengers: Infinity War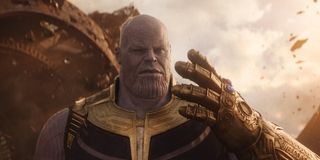 Over the last seven years, we've watched five of the six Infinity Stones pass through different hands separately, but we have yet to see any of them being brought together. That's what Thanos is striving to accomplish in Avengers: Infinity War, and from the perspective of the Marvel Cinematic Universe's heroes and we the audience, that's definitely a bad thing. However, like many villains, Thanos doesn't see himself as the bad guy. As directors Joe and Anthony Russo explained, the Mad Titan believes that only he is worthy of wielding the six Infinity Stones in the Infinity Gauntlet because he wants to bring balance to the universe. The Russos stated:
Unlike in the comics, where Thanos is obsessed with courting the personification of Death, Thanos' reasons for collecting the Infinity Stones in Avengers: Infinity War stems from him not wanting the rest of the universe to fall prey to the same fate his homeworld, Titan, suffered. In the MCU, when Titan started running out of resources, Thanos suggested that half the planet's population be exterminated to save the rest. His fellow Titans rejected his proposal and cast him into exile, and eventually the whole planet ended up dying. As a result, Thanos has been traveling across the universe and eliminating half the population of each planet he visits as his way of course correcting. With the six Infinity Stones, he'll be able to do that across all of reality with a snap of his fingers.
As Joe Russo mentioned while he was speaking with CinemaBlend's own Eric Eisenberg, even without the Infinity Stones, Thanos is still one of the MCU's strongest and most intelligent beings, so in his mind, only he can do what is necessary to bring balance and widespread peace. It will result in half of all life being eliminated, but the tradeoff is the other half getting to live without worrying about dwindling resources. With the help of The Black Order and his Outrider army, Thanos will attempt to bring his vision to life in Avengers: Infinity War, and even though he'll face the full might of the MCU's biggest heroes, it's possible they won't be enough to stop him.
Avengers: Infinity War opens in theaters this Friday, April 27, but as you count down the days (or even hours) until you get to watch it, don't forget to read CinemaBlend's review of the movie. You can also find out what other MCU movies are on the way by looking through our handy guide.
Your Daily Blend of Entertainment News
Connoisseur of Marvel, DC, Star Wars, John Wick, MonsterVerse and Doctor Who lore. He's aware he looks like Harry Potter and Clark Kent.