Why Sebastian Stan's Mother Was Mad At Him About Black Panther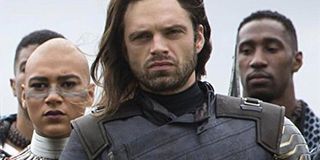 Spoilers for Black Panther can be found in this article, if you still haven't seen it.
The cast and crew of Avengers: Infinity War are out and about promoting the new movie, but it wasn't so long ago that many of the cast members in this movie were out and about promoting Black Panther. Although Sebastian Stan wasn't on that tour, he does show up in the movie, albeit in the post-credits sequence introducing him as the White Wolf, a man who has been living the simple life in Wakanda since the events in Captain America: Civil War. A lot of us know this because we saw the movie and stayed for the post-credits scene, but Sebastian Stan recently revealed on Jimmy Kimmel Live that his mother got mad at him after seeing the movie, simply because she isn't on the up-and-up about Marvel's penchant for post-credit scenes. According to Stan,
It's pretty hilarious that Sebastian Stan told his mom that he was in Black Panther and that she left in a huff thinking he had lied to her. To her credit, that scene was short, and we've known for a while that Sebastian Stan did shoot more for the movie. I'm not sure what miscommunication happened there leading to that moment. Maybe the actor off-handedly mentioned to her that he was filming for the movie and she just assumed he'd be a key player? Either way, Stan told Jimmy Kimmel and a slew of his castmates that he didn't invite her to Avengers: Infinity War's premiere as a result.
His story is different than Josh Brolin's. Brolin mentioned he did invite his brother, a Marvel fanatic, to the premiere, and his brother declined, wanting to see it with his friends, so it was more about his time with the movie and not red carpet stuff. Not sure that dude realized he'd get to see the movie early, but whatever.
If you'd like to see more from some of The Avengers talking about what props they took from set --and if you have eagle-eyed vision, Chadwick Boseman is wearing an important bracelet---you can take a look at the full interview, below.
Beyond Sebastian Stan's adorable mimicking of his mother's voice, there's a lot to unpack here, and even more to unpack from Avengers: Infinity War. If you've caught the flick already, be sure to rate and discuss with spoilers. In addition, if you need a refresher on what has happened in the Marvel Cinematic Universe leading up to the epic event movie that is Avengers: Infinity War, we have you covered.
Reality TV fan with a pinch of Disney fairy dust thrown in. Theme park junkie. If you've created a rom-com I've probably watched it.
Your Daily Blend of Entertainment News
Thank you for signing up to CinemaBlend. You will receive a verification email shortly.
There was a problem. Please refresh the page and try again.