Someone Edited Harrison Ford's Face Into The Solo Trailer, And It's Magic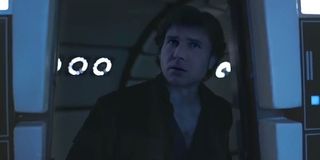 Even though we're only weeks away from seeing Alden Ehrenreich from putting his stamp on Han Solo in Solo: A Star Wars Story, Harrison Ford will always be the actor that Star Wars fans associate most with the character. Ford played the popular smuggler in the Original Trilogy and reprised him more than 30 years later for The Force Awakens. Ford's time with the character is over following Han's death at the hands of Kylo Ren, but one fan wondered what it would look like if a younger Ford had been brought to the present day to star in Solo. Sadly, we can't accomplish that with time travel, but you can see the next best thing in the fan-edited Solo trailer below, dubbed "True Solo."
Using footage and stills from movies and television shows that Harrison Ford appeared in before A New Hope (including American Graffiti, The Conversation and Love American Style), Nick Acosta pasted the actor's head onto Alden Ehrenreich's body and animated it for the full-length Solo: A Star Wars Story. Alas, we don't have the audio technology to make Ehrenreich's lines sound like they're being spoken by Ford, but it's nonetheless amusing to see a pre-Star Wars Ford look like he's appearing in this prequel story. Of course, it's not outside the realm of possibility that we could someday see Ford's 1970s appearance recreated for a Star Wars movie. After all, Rogue One: A Star Wars Story digitally recreated both Peter Cushing and Carrie Fisher's likenesses from A New Hope so that we could see Grand Moff Tarkin and Leia Organa. But for now, Ehrenreich has the young Han Solo duties covered.
Taking place approximately a decade before A New Hope, Solo: A Star Wars Story will chronicle Han Solo attempting to make a name for himself in the galaxy far, far away's criminal underworld. Along with meeting familiar faces like Chewbacca and Lando Calrissian for the first time, Solo will also see the eponymous protagonist crossing paths with new characters like Qi'ra, Tobias Beckett, Val, L3-37 and Dryden Vos. While Solo will be a standalone story, Alden Ehrenreich signed a three-picture contract when he accepted the role, and director Ron Howard thinks it's possible we could see more Han-centric adventures down the line, though no official plans for sequels have been announced yet.
Solo: A Star Wars Story blasts its way into theaters on May 25, so keep checking in with CinemaBlend for more updates about the movie in these remaining weeks. You can also look through our 2018 release schedule to learn what other movies are coming out this year.
Your Daily Blend of Entertainment News
Connoisseur of Marvel, DC, Star Wars, John Wick, MonsterVerse and Doctor Who lore. He's aware he looks like Harry Potter and Clark Kent.