Black Panther Included A Cool Cameo From The Daily Show's Trevor Noah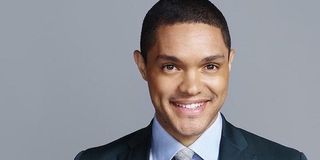 In the lead-up to major blockbusters, there's no shortage of rumors and reports about actors/characters who might pop up/cameo, and once said blockbuster is released, moviegoers will learn who all was involved outside of the main cast, either by watching the theatrical tale or by reading articles in the day after. But every now and then, someone who participated in a major movie slips through the proverbial cracks, and such is the case for Black Panther. The 18th Marvel Cinematic Universe movie was released in theaters in February and arrived on home media earlier this month, but now it's been discovered that The Daily Show host Trevor Noah lent his talents as the voice of the computer aiding Everett Ross.
If you paid close attention to the Black Panther credits, you may have noticed that Trevor Noah was listed, but he was identified as "Griot," and there's no character by that name mentioned in the movie. Fortunately, an astute Redditor picked up that Trevor is voicing the A.I. in Shuri's lab that helped Everett Ross pilot the Wakandan aircraft and warned him of nearby danger in the Black Panther finale. Noah now joins the ranks of actors who've voiced handy A.I. in the MCU, which includes Paul Bettany, Kerry Condon and Jennifer Connelly. If you want to hear Trevor's Griot assisting Martin Freeman's character, watch the below clip.
While most of Black Panther's action took place in Wakanda, T'Challa, Okoye and Nakia traveled to South Korea to apprehend Ulysses Klaue, the weapons dealer who snuck into Wakanda nearly three decades earlier and stole a large amount of vibranium, killing many of the country's citizens in the process. However, upon reaching the location where Klaue was supposed to be, T'Challa reunited with Everett Ross, the CIA agent he met in Captain America: Civil War who was trying to procure a sample of vibranium Klaue recently obtained. While T'Challa and Ross weren't on the same page at first in Black Panther, after Ross was brought back to Wakanda so his bullet wound could be healed, he became a full-on ally to the eponymous hero and the other protagonists by providing intel on Killmonger and using his piloting experience to shoot down the aircraft that were going to take vibranium weapons outside of the country. But even still, using Wakandan technology for the first time is difficult, so it's fortunate that the Trevor Noah-voiced Griot was there to help him.
You can now watch Black Panther in the comfort of your own home on Blu-ray, DVD or Digital HD, and there's still time to watch T'Challa and his allies fight back against Thanos' forces on the silver screen in Avengers: Infinity War. Be sure to also look through our Marvel movies guide to learn what the MCU has in development.
Connoisseur of Marvel, DC, Star Wars, John Wick, MonsterVerse and Doctor Who lore. He's aware he looks like Harry Potter and Clark Kent.
Your Daily Blend of Entertainment News
Thank you for signing up to CinemaBlend. You will receive a verification email shortly.
There was a problem. Please refresh the page and try again.