Why Solo Underperformed At The Box Office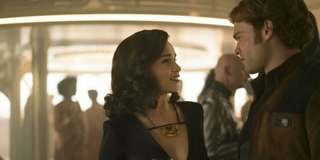 After its second weekend in release, there can be no argument to the contrary; Solo: A Star Wars Story is a financial disappointment. The spinoff origin story has not only failed to live up to either early expectations or the standards set by its predecessors, and as a result, it is now on track to lose money for Disney. Up until now Star Wars had seemed unstoppable. Beyond just the saga films, Rogue One proved the viability of other stories set in a galaxy far, far away. But Solo proves that Star Wars isn't quite the Teflon franchise we assumed it to be.
With an underperformance of this magnitude, it is natural to take a look at what exactly went wrong that led to such a massive disappointment. Star Wars will be fine, if it survived the prequels it can survive this, but it is still a useful exercise to evaluate why Solo: A Star Wars Story underperformed to better understand how different choices can be made next time to avoid this kind of letdown happening again.
The reality is that Solo's performance is almost certainly more complex than any one thing or any six, but there are some obvious culprits that may have led to Solo: A Star Wars Story failing to take off at the box office. Here are some theories as to why the new movie from Lucasfilm and Disney underperformed.
Production Problems
It is tough to quantify, but generally speaking I don't think the wider public is as tuned in to the reshoots and behind-the-scenes production problems of most movies as the people who follow this industry. However, the production problems on Solo: A Star Wars Story were many and they were well publicized and were accompanied by a great deal of hand-wringing by the fans. It's hard to imagine that at least some of that didn't make its way through cultural osmosis to the average Star Wars fan. From the directors being fired not long before production on Solo was set to finish to the rumors about Alden Ehrenreich's acting, there were a lot of concerns heading into this movie. Ron Howard came in and with great efficiency reshot a lot of the film, but despite his resume, the very fact that so much had to be reshot set off alarm bells. Audiences may not have seen a fire, but there was certainly a lot of smoke.
The Release Date
Ever since Disney brought Star Wars back, it has been trying to return the franchise to its traditional May release date. The Last Jedi and Episode IX were both set to release in May before being pushed back to the holiday season. Still, Disney seemed determined to put Star Wars back at the start of summer by the Han Solo movie started coming together, perhaps because of some hope it could reignite a tradition that ended back in 2005? Solo: A Star Wars Story finally saw the franchise return to its ancestral stomping grounds and proved that perhaps its best to let the past die. It has been over a decade since Revenge of the Sith, and people now consider December to be Star Wars season. There is also the fact that Memorial Day weekend isn't necessarily the most fertile ground anymore, with recent releases like Baywatch and Pirates of the Caribbean: Dead Men Tell No Tales also losing ground on that weekend.
Competition
Not long ago the very notion that any film could be competition for Star Wars was absurd. When Star Wars plants its flag on a release date other films scatter like rats. Solo: A Star Wars Story was given a pretty wide berth after its release; then again, two huge comic book films preceded it. The biggest film of the year, Avengers: Infinity War, came out less than a month before Solo. Then, Deadpool 2 came out a week before. Simply put, audiences had probably been to the movies more than they usually do in the span of a month and may not have had the money or the inclination to go to the theater again so soon. Maybe if Solo had been released between these before them, or even a few weeks after, things might have been different. Instead, audiences were asked to shell out for another movie night. The crowded blockbuster season cannibalizes itself and like a porg on the spit, Solo: A Star Wars Story wasn't at the top of the food chain.
Star Wars Fatigue?
I personally don't think that audiences are tired of or bored with Star Wars only a few years after the franchise's return. However, Star Wars isn't Marvel, and perhaps it isn't well-suited to coming out with such frequency. Star Wars: The Last Jedi came out just five months prior to Solo: A Star Wars Story. Maybe audiences hadn't built up that anticipation for another Star Wars movie that makes this franchise feel special. There is fun to be had with the film if you give it a chance, but Solo's reviews were merely okay and didn't compel audiences to rush out to theaters, either. If you just saw a Star Wars movie and you heard lukewarm things about this one, maybe you are the person who decides to skip the flick entirely and wait for home video. People don't like to part with their money for something that isn't a sure thing. It's possible that the OK reviews held more weight because of Solo's proximity to another Star Wars film.
A New Han Solo
A Han Solo by any other name than Harrison Ford may not be as sweet at the box office. There is a question of whether or not people were even asking for the story of young Han Solo. It is also quite possible that a lot of people simply weren't interested in a Han Solo movie that didn't star Harrison Ford (a possible teaching moment should a young Indiana Jones be in our future). Far from an indictment of Alden Ehrenreich's performance, he simply had an impossible task. Anyone taking on one of the most iconic roles in cinematic history made famous by one of the biggest movie stars ever was bound to come up short. Rogue One didn't suffer this problem because it featured new characters in a familiar setting. Solo: A Star Wars Story attempted to use the audience's love of Han Solo to sell itself, perhaps without realizing just how much that love is tied in with Harrison Ford and his performance.
The Marketing
Speaking of selling the movie, over at Deadline, one media analyst cites the marketing as Solo's biggest problem and he has a point. We didn't see anything from Solo: A Star Wars Story until the Super Bowl. At that point, the film was less than five months from its release. The next full trailer didn't premiere until April. That isn't a ton of time to get the message out. Rogue One: A Star Wars Story had a full year to show people that it wasn't Episode VIII. The trailers, posters and other marketing were also fairly lackluster. Sure, Donald Glover's Lando looked awesome, but the marketing had to sell what Solo was, and why we needed to see it as fans, not to mention sell on the different guy playing Han Solo. That's a tall task in a limited period of time and nothing short of incredible marketing would do. There is also the fact that the marketing seemed to be focusing on the cast of characters and downplaying the guy whose name is in the title, which seemed to be an Amidala-esque vote of no confidence.
This poll is no longer available.
Nick grew up in Maryland has degrees in Film Studies and Communications. His life goal is to walk the earth, meet people and get into adventures. He's also still looking for The Adventures of Pete and Pete season 3 on DVD if anyone has a lead.
Your Daily Blend of Entertainment News
Thank you for signing up to CinemaBlend. You will receive a verification email shortly.
There was a problem. Please refresh the page and try again.