The Hulk Hogan And Gawker Movie Is Definitely Happening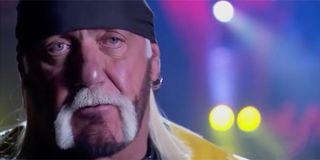 It's been a couple of years since prominent website Gawker shut down following a court case that left the website bankrupt. The infamous case occurred after Gawker chose to publish a video on the site of Hulk Hogan having sex. The famous wrestler, actor and TV personality sued the website, and ended up being awarded $140 million in damages. (Although he settled for less.) Those are the bare facts, however, and the intricacies of the court case are a little more interesting. So interesting, in fact, that a new movie is definitely happening based on the Hulk Hogan and Gawker case, and a big director is already attached. A big title is also attached, as well, as the project is rolling with the name Conspiracy: Peter Thiel, Hulk Hogan, Gawker, and the Anatomy of Intrigue. Yeah, that's gonna be a fun one to type out over and over again in this story.
We've heard over the last few months that there were a couple of projects in development about the Hulk Hogan and Gawker story. Previously, we heard there was a Neil Meron and Craig Zadan movie project in the works and a competing David A. Neuman project that was originally being considered for a miniseries. Now, we know for sure that the David A. Neuman project is happening; however, Conspiracy is no longer being bandied about as a TV project but as a feature film. Red Sparrow and Hunger Games franchise director Frances Lawrence has been hired on to direct Conspiracy: Peter Thiel, Hulk Hogan, Gawker, and the Anatomy of Intrigue, and Charles Randolph is writing the movie, basing it on the book of the same name written by Ryan Holiday.
So far casting has yet to commence, although Blackrock Productions, headed up by David A. Neuman, says that a-listers are being considered for the roles. Hulk Hogan has stated in the past that Chris Hemsworth might be a good fit to play him--I could see it--but since the sex tape was reportedly shot in 2006 when Hulk Hogan, aka Terry Gene Bollea, was already over 50, and since the court case happened even later in the Hulk Hogan timeline, the Aussie actor might not be the best fit for this particular project. We'll let you know as soon as any casting comes down the pipeline.
In addition, Francis Lawrence and David A. Neuman will produce the film.
The movie is expected to follow several key players in the case. There's Hulk Hogan, of course, there's Nick Denton, who founded Gawker, and then there's Peter Thiel, an investor and entrepreneur from Silicon Valley who donated money to finance the lawsuit against Gawker, hoping to shut the site down after the website outed him as a gay man a few years earlier. The story as a whole is a lengthy and wild one and should make for an entertaining movie. It just needs to move forward in production at this point.
If you'd like to read more about the court case, you may do so here. Netflix also has its own documentary about the topic. Or just wait until Conspiracy: Peter Thiel, Hulk Hogan, Gawker, and the Anatomy of Intrigue gets an official release date. For now, you can take a look at what is heading into theaters with our full schedule.
Your Daily Blend of Entertainment News
Reality TV fan with a pinch of Disney fairy dust thrown in. Theme park junkie. If you've created a rom-com I've probably watched it.
Your Daily Blend of Entertainment News
Thank you for signing up to CinemaBlend. You will receive a verification email shortly.
There was a problem. Please refresh the page and try again.