Wait, Was There A Star Wars Mos Eisley Movie Spinoff In Development?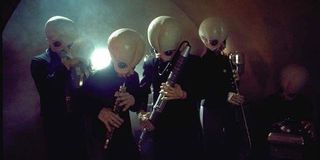 The last few days have seen conflicting information pop up regarding the future of the standalone Star Wars movies. First it was reported that Lucasfilm was putting these spinoff on hold in the wake of Solo: A Star Wars Story's disappointing box office performance to focus on Episode IX and the other "main" movies to follow, and then yesterday, sources at Lucasfilm said that this isn't the case at all. It remains to be seen what's actually in store for the Star Wars spinoffs, but it's rumored one of the "stories" that had previously been in development would have centered on the Mos Eisley spaceport on Tatooine.
One of the most iconic moments from Star Wars Episode IV: A New Hope is when Luke Skywalker, Obi-Wan Kenobi, C-3PO and R2-D2 travel to Mos Eisley following the discovery that Luke's Uncle Owen and Aunt Beru were killed by stormtroopers. While we'd already seen aliens like Jawas and Tusken Raiders, the moments in the spaceport, particularly the cantina where we met Han Solo and Chewbacca, gave us a better idea of just how many colorful creatures populated the galaxy far, far away. Well, according to Making Star Wars, there was a movie in consideration the effect of Mos Eisely Spaceport: A Star Wars Story (that wouldn't have been the actual title), and it may have been the source of the recent news surrounding the Star Wars spinoffs. Supposedly some space reserved at Pinewood Studios that had been cancelled, but it was actually for this movie rather than one of the publicly-known spinoffs, and now this Mos Eisely project has either been shelved or postponed.
While Mos Eisley was a fun destination to visit in the first Star Wars movie, I can't imagine this being the premise for an entire movie. One of the most appealing elements of these movies is traveling to numerous locations, and keeping the action limited to just one town seems counterproductive. The only way I could see this kind of movie working is if it was re-tooled into a story centered around the Star Wars universe's seedy underworld. Solo: A Star Wars Story delved into this through Han Solo's interaction with the Crimson Dawn crime syndicate. No spoilers here, but the end of Solo leaves room to further explore this universe's criminal elements. Since so many suspicious characters hang out at the Mos Eisley cantina, you could easily have a few of them in such a movie, not to mention incorporate bounty hunters like Bossk and Dengar.
As things stand right now, Disney and Lucasfilm have set aside a release date in 2020, but officially, there's been no word on what Star Wars movie will occupy that slot. Unofficially, both an Obi-Wan Kenobi movie and a Boba Fett movie have both been reported on over the last year, with Billy Elliot's Stephen Daldry previously having been in talks to direct the former and Logan's James Mangold reportedly attached to direct the latter.
Stay tuned to CinemaBlend for all the latest updates concerning the Star Wars franchise. Episode IX, the final chapter of the current trilogy, will be released on December 20, 2019.
Your Daily Blend of Entertainment News
Connoisseur of Marvel, DC, Star Wars, John Wick, MonsterVerse and Doctor Who lore. He's aware he looks like Harry Potter and Clark Kent.
Your Daily Blend of Entertainment News
Thank you for signing up to CinemaBlend. You will receive a verification email shortly.
There was a problem. Please refresh the page and try again.