This Rotten Week: Predicting Ant-Man And The Wasp And The First Purge Reviews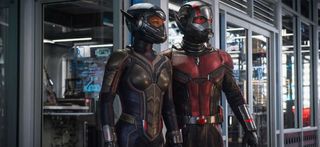 With June now being over we've reached the halfway point in 2018, and thus far there's been no bigger success than Marvel Studios. Both Black Panther and Avengers: Infinity War were monster hits when they hit theaters, and now the comic book movie franchise is ready to launch another blockbuster - though it will be going toe-to-toe with one of the biggest horror series going. Get ready for Ant-Man and the Wasp and The First Purge.
Just remember, I'm not reviewing these movies, but rather predicting where they'll end up on the Tomatometer. Let's take a look at This Rotten Week has to offer.
A decade or so ago it would have been kind of ridiculous to imagine an Ant-Man movie let alone a sequel - but that's just the world that the Marvel Cinematic Universe has created. The franchise is unquestionably the biggest currently running in Hollywood, and not only are the films making money but they are earning extremely positive reviews - with Black Panther (97%), Avengers: Infinity War (83%), Thor: Ragnarok (92%) and Spider-Man: Homecoming (92%) being the five latest examples. The original Ant-Man did well in this regard as well, earning an 82% back in 2015, and now it looks like Peyton Reed's Ant-Man And The Wasp is going to be another critical hit.
This one picks up in between the events of Captain America: Civil War and Avengers: Infinity War, with Paul Rudd doing what he does best as the comedic thief-turned-hero Ant-Man, and this time around he's teaming up with Evangeline Lilly suited up as The Wasp. It looks entertaining, and the 79 reviews already in have it out-pacing the original. In short, Ant-Man And The Wasp definitely won't be the MCU's first Rotten title.
It's been five years since Ethan Hawke first hunkered down in his safe house to ride out the Purge happening in the city streets around him. In that movie we were introduced to an America that let out it's bloodlust and aggression in one big 12-hour orgy of violence once a year. The Purge was interesting, but generally just kind of meh, scoring 38% on the Tomatometer .Subsequent flicks in the franchise have been marginally better with The Purge: Anarchy (56%) and The Purge: Election Year (53%) each scoring just above the halfway mark. Now we walk the story back some, getting a taste of the The First Purge, and from the trailer, it seems we get all of the government conspiracy, creepy masks and egregious violence we can handle.
After helming the first three films in the Purge series, James DeMonaco steps away from the director's chair for this one (he still wrote the screenplay), and turns the reins over to Gerard McMurray (Burning Sands - 87%). That being said, it doesn't exactly look like it's missing a beat, as The First Purge looks like more of the same from the universe that fans have grown to appreciate. I doubt it scores big with critics, and probably will dip down a bit compared to the last two installments, but at this point is mostly just working towards its core audience anyway.
Looking back at last week, I was really way off with Uncle Drew (Predicted: 18% Actual: 68%). I've been writing this column for a long time (this is actually number 409), and this is without question one of most inaccurate predictions. I thought this was a money-grabbing commercial put to film, made just as a chance to peddle some stuff and get NBA players on the big screen. I'm shocked it's basically certified fresh with more than 50 reviews in. Critics seemed generally pleased with the silliness and that the basketball players weren't total zeroes on screen. It's tough to be as wrong as I was here, as 50 percentage points off might as well be a million. I airmailed this thing bad.
Meanwhile, Sicario: Day of the Soldado (Predicted: 61% Actual: 63%) was a near bullseye, though it still doesn't take away the sting of the Uncle Drew fiasco. I suspected this sequel wouldn't come super close to the original (which was over 90%), and I was correct on that front. Critics agreed it didn't live up to the Emily Blunt-led Sicario, with Josh Brolin and Benicio del Toro not putting together a story that is quite as successful. It isn't a total mess, but apparently not on the level of its predecessor.
Next time around we've got Hotel Transylvania 3: Summer Vacation and Skyscraper. It's gonna be a Rotten Week!
Doug began writing for CinemaBlend back when Terminator: The Sarah Connor Chronicles actually existed. Since then he's been writing This Rotten Week, predicting RottenTomatoes scores for movies you don't even remember for the better part of a decade. He can be found re-watching The Office for the infinity time.
Your Daily Blend of Entertainment News
Thank you for signing up to CinemaBlend. You will receive a verification email shortly.
There was a problem. Please refresh the page and try again.