How Much Ant-Man And The Wasp Made On Opening Night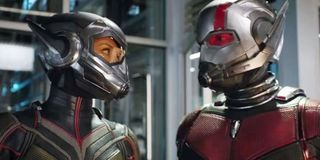 It's hard to believe we have already hit a point in time when yet another Marvel movie is coming out. I'd personally hate to be a part of the movie that came out after the epic-in-scale and highly touted Avengers: Infinity War, but the Ant-Man franchise has always been just sort of a fun side component in the MCU, and as such, putting Ant-Man And The Wasp after Infinity War was probably the smart call. Thanks to the heightened profile of the Marvel Cinematic Universe combined with the fact it's 4th of July weekend, Ant-Man And The Wasp is off to a good start at the box office. Early estimates indicate the movie made at least $11 million on opening night.
The movie, in fact, may have made up to $13 million, and more likely landed somewhere in that range, according to Deadline's early estimates. When comparing that to opening night for the original Ant-Man movie, this preview night was hopping. The original origin flick only brought in $6.4 million on opening night. That movie went on to make a little over $519 million worldwide, which is one of the lowest MCU movies ever. The only movies that have a lower box office total are Captain America: The First Avenger and The Incredible Hulk. For reference, even Thor: The Dark World made more money worldwide.
For opening night comparison's sake, Avengers: Infinity War made $39 million on preview night, so it's really not close. Granted, that was the best showing ever on opening night for a Marvel movie, and I'd imagine it will be a little while before an MCU movie reaches such great heights again. Earlier this year Black Panther also made $25 million on opening night, so again, Ant-Man And The Wasp doesn't stack up. However, Ant-Man And The Wasp should beat Doctor Strange when the final numbers come in, as that movie only made $9.4 million on opening night. The numbers should be in line with what Guardians of the Galaxy made on opening night back in 2014, as well.
Leading in to the release of Ant-Man And The Wasp, the question was whether or not interest in this sequel would be very high. The film has the added benefit of Marvel's first headlining female protagonist in Evangeline Lilly's The Wasp. People are also really invested in the MCU right now, thanks to what happened in Infinity War, and Ant-Man and the Wasp does tie into this spring's movie in potentially key ways. That may be enough for the movie to open to an estimated $75-$80 million this weekend, and we'll let you know if the numbers go even higher, or fall short.
For now, you can help those numbers by checking out the movie in theaters. In addition, if Ant-Man isn't your thing, you can see what else Marvel has coming up with our full guide.
Your Daily Blend of Entertainment News
Reality TV fan with a pinch of Disney fairy dust thrown in. Theme park junkie. If you've created a rom-com I've probably watched it.