All The Deleted Scenes Marvel Will Include On The Avengers: Infinity War Blu-ray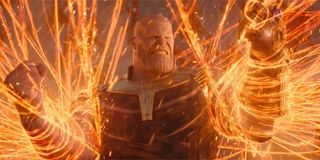 At an impressive two hours and 40 minutes, Joe and Anthony Russo's Avengers: Infinity War is easily the longest movie in the Marvel Cinematic Universe... but even the longest films have scenes and moments deleted due to structure, timing, and pacing. The 19th MCU blockbuster is no exception, and while we'll probably never see all of the material cut out, we now know about the material that will be resurrected for the upcoming home video release.
Walt Disney Studios has officially announced the details for the upcoming Avengers: Infinity War digital and Blu-ray/DVD releases -- dated for July 31st and August 14th, respectively -- and part of that information includes descriptions of the deleted and extended scenes. There are four in total, and we've highlighted them all below:
Happy Knows Best
Official Description: Tony and Pepper spar over the details of their upcoming wedding---until a hassled Happy Hogan pulls up with an urgent request.
This deleted scene is surely from the very beginning of Avengers: Infinity War -- and we know that basically because it is the only sequence that features Gwyneth Paltrow's Pepper Potts. In the movie, her post-jogging conversation with Tony Stark (Robert Downey Jr.) is concluded with the arrival of Doctor Strange (Benedict Cumberbatch), but it seems that an extended cut would have included a special appearance by Happy Hogan (Jon Favreau).
Hunt for the Mind Stone
Official Description: On a darkened street, Wanda Maximoff and the wounded Vision attempt to hide from Thanos' brutal allies.
This deleted scene essentially suggests that the sequence in Edenborough, Scotland where Scarlet Witch (Elizabeth Olsen) and Vision (Paul Bettany) battle the Black Order was originally going to be a bit longer. The Blu-ray material won't add a great deal to what's featured in the theatrical cut, clocking in at less than a minute and a half, but it will be nice to get to see more of the bond between the two Avengers.
The Guardians Get Their Groove Back
Official Description: As Peter Quill and Drax quarrel over their failed mission to Knowhere, Mantis interrupts with news.
It's difficult to precisely gauge what's going to be depicted in this Avengers: Infinity War deleted scene, but it clearly will take place very shortly after Star-Lord (Chris Pratt) is unable to save Gamora (Zoe Saldana) from being kidnapped by Thanos (Josh Brolin). Evidently it will create a bit of tension among the Guardians of the Galaxy... but more importantly, what exactly is the news Mantis delivers? Presumably it will be something about the ship containing Doctor Strange, Iron Man, and Spider-Man (Tom Holland) that is flying toward Titan, but we won't know until the last day of this month.
A Father's Choice
Official Description: Thanos confronts Gamora with a vision from her past---and with lying to him about the Soul Stone.
Finally we have what is the longest of the deleted scenes, with a running time of four minutes. Based on the description, it's hard to precisely say when or where this moment would take place, but clearly it's after Gamora's aforementioned kidnapping. This could be on Titan, before Gamora sees what he adoptive father has done to Nebula (Karen Gillan), but it might also be a longer moment on the planet Vormir before the movie's notably horrific sacrifice.
These all sound great, but it should also be noted that the deleted/extended scenes are far from the only special features audiences will get with the Avengers: Infinity War home video release. In addition to an audio commentary with directors Joe and Anthony Russo writers Stephen McFeely and Christopher Markus, as well as a gag reel, the movie will feature numerous behind-the-scenes featurettes. The digital version will also have a fantastic exclusive called A Directors' Roundtable, which will be 32 minutes long and feature eight filmmakers and their experiences making movies with Marvel Studios.
We'll have a lot more coverage of the Avengers: Infinity War home video release closer to the release dates, so stay tuned!
Your Daily Blend of Entertainment News
Assistant Managing Editor
NJ native who calls LA home and lives in a Dreamatorium. A decade-plus CinemaBlend veteran who is endlessly enthusiastic about the career he's dreamt of since seventh grade.