This Rotten Week: Predicting Mission: Impossible - Fallout And Teen Titans Go! To The Movies Reviews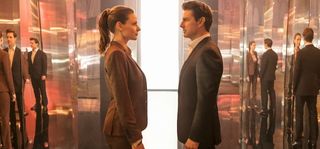 Summer 2018 has been a season filled with highly-anticipated sequels as well as exciting superhero action - and this weekend we have a full double dose. Not only are we seeing the return of everybody's favorite IMF agents, but also getting some colorful, kid-friendly fun for the DC Comics fans out there. In other words, get ready for Mission Impossible - Fallout and Teen Titans Go! To The Movies.
Just remember, I'm not reviewing these movies, but rather predicting where they'll end up on the Tomatometer. Let's take a look at This Rotten Week has to offer.
Going back to the first Mission: Impossible all the way back in 1996, the spy franchise has been good for a cool $2.8 billion at the box office, and with each new installment it just seems to be getting better and better. While the first movie in the series received mostly middling marks from critics, the modern era has seen tremendous improvements with chapters like Mission: Impossible - Ghost Protocol (93%), and, more recently, Mission: Impossible - Rogue Nation (93%). Now we're getting ready for the next one, Christopher McQuarrie's Mission: Impossible - Fallout, and it sounds like this may be the best and most thrilling adventure yet.
Early reviews are overwhelmingly positive so far, and this looks like another clear winner for Tom Cruise and company. With 67 reviews posted online it's sitting at a cool 96% on the Tomatometer. Many are calling it the best Mission: Impossible film to date, which is really saying something considering how far into the run we are. That being said, it looks like it's Cruise doing all the things he does best, with a solid story and antagonist to boot. Buckle up everyone, it's a mission you'll want to accept.
It sure does seem like every superhero under the sun is getting his or her own stand-alone feature film these days - but DC's Teen Titans have been feeling a bit left out of the process. However, now is the time for Robin, Starfire, Cyborg, Raven and Beast Boy to shine, as they are now getting a special, meta-joke filled big screen adventure of their own. In Teen Titans Go! To The Movies, the superhero team is making its way to Hollywood, and from everything we've seen it looks like a funny, tongue-in-cheek bit of entertainment.
Sometimes you can just tell from the trailer if a movie will hit on all cylinders, and the previews for this one have been great. More importantly, the early reviews for Teen Titans Go! To The Movies have been very positive. It currently stands at 100% with 10 reviews being live, and critics are clearly appreciating the humor above all else. That's pretty key, given that it will allow the feature to appeal to all of the adults who will be taking their kids to the theater. This one looks like it could be a real hit, and keep a really fantastic superhero streak going in 2018.
Overall, it was a good week for the Rotten Watch, with two of the three of my predictions hitting within 10 percent. Starting with Equalizer 2 (Predicted: 53% Actual: 50%), the film is Denzel Washington's first ever sequel, and it fell right in the middle of the Tomatometer. While most critics agreed that Washington put on a great performance, they also didn't seem to feel that the story was up to snuff. Apparently the sequel doesn't really tread any new ground or distinguish itself from the myriad of other "rogue guy with special skills" flicks that come out many times over the course of a year.
Next up, Unfriended: Dark Web (Predicted: 52% Actual: 57%) was another predictive win. It finished six percentage points lower than the first in the series, with some critics thinking it clever and a commentary on our current relationship with the online world. Others thought it was heavy-handed and unoriginal. It ultimately inspired a lot of extreme reactions, which left it with a middling score.
Finally, Mamma Mia! Here We Go Again (Predicted: 48% Actual: 78%) was a big-time miss. The sequel complete crushed the first film, which finished at 54 percent when it was released a decade ago. It's not all that common to see a sequel completely outpace the original (see the previous two movies above as examples), but critics took to the story here much more than its predecessor. The soundtrack apparently didn't hurt either, and this will go down as one of my most errant predictions.
Next time around we've got The Darkest Minds, Disney's Christopher Robin and The Spy Who Dumped Me. It's gonna be a Rotten Week!
Doug began writing for CinemaBlend back when Terminator: The Sarah Connor Chronicles actually existed. Since then he's been writing This Rotten Week, predicting RottenTomatoes scores for movies you don't even remember for the better part of a decade. He can be found re-watching The Office for the infinity time.
Your Daily Blend of Entertainment News
Thank you for signing up to CinemaBlend. You will receive a verification email shortly.
There was a problem. Please refresh the page and try again.