Dave Bautista Doubles Down On His Guardians Of The Galaxy Vol. 3 Comments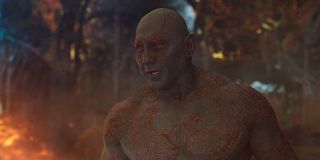 In the weeks since it was announced that Disney had fired James Gunn from Guardians of the Galaxy Vol. 3 after jokes he made about rape and pedophilia nearly a decade ago on Twitter resurfaced, numerous celebrities have voiced their support for the director, but arguably none have been more vocal than Dave Bautista, a.k.a. the Marvel Cinematic Universe's Drax the Destroyer. Just yesterday, Bautista tweeted that while he would do what he's "legally obligated to do" in Guardians of the Galaxy Vol. 3, he's dissatisfied with how Disney has handled this matter. However, Bautista is doubling (or at this point, maybe even tripling or quadrupling) down on his displeasure, nowsaying that if Marvel Studios doesn't use the Guardians of the Galaxy Vol. 3 script Gunn wrote, then he wants out of the project altogether. In Bautista's words:
Just like the previous two Guardians of the Galaxy movies, the plan was for James Gunn to both write and direct Guardians of the Galaxy Vol. 3, and while there are reportedly no plans for Disney to rehire Gunn to helm the threequel, he had turned in a script. Dave Bautista has not minced words lately in expressing how he doesn't approve of what happened with Gunn, and in an interview with Shortlist, he drew a line in the proverbial sand with the Guardians of the Galaxy Vol. 3 script. Many of the Guardians of the Galaxy cast members, Bautista included, signed an open letter last week to support Gunn, but so far Bautista is the only one who's willing to step away from these movies if at least some of Gunn's vision of Guardians of the Galaxy Vol. 3 isn't kept intact.
Back when James Gunn was still attached to Guardians of the Galaxy Vol. 3, the plan was for the movie to be released sometime in 2020, presumably snagging either the May 1 or July 31 dates Marvel has carved out. Now that Gunn is gone, it's unclear if Guardians of the Galaxy Vol. 3 will still meet its early 2019 production start date, particularly because Marvel reportedly doesn't feel any pressure to find a new director immediately. There's still no word on if Gunn's script will still be used, but if it isn't, then Dave Bautista will request that the Mouse House let him go. Frankly, it's hard to imagine the Guardians of the Galaxy without Drax around, so I imagine if Disney was willing to pat ways with Bautista, it would just recast the role, as has previously been done with Hulk and War Machine. Still, this is just the latest example of how messy this whole situation is, but on Bautista's part, he's certainly proving his loyalty to Gunn.
Stay tuned to CinemaBlend for the latest updates about what's happening with Guardians of the Galaxy Vol. 3. In the meantime, Drax and the other Guardians will be back on the big screen when Avengers 4 premieres on May 3, 2019.
Connoisseur of Marvel, DC, Star Wars, John Wick, MonsterVerse and Doctor Who lore. He's aware he looks like Harry Potter and Clark Kent.
Your Daily Blend of Entertainment News
Thank you for signing up to CinemaBlend. You will receive a verification email shortly.
There was a problem. Please refresh the page and try again.