What's Going On With Guardians Of The Galaxy Vol. 3 After James Gunn's Firing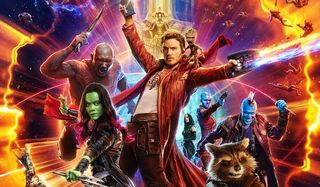 It's been a pretty fast news cycle surrounding the firing and potentially rumored rehiring of Guardians of the Galaxy director, James Gunn. With all of the developments taking course over the span of a couple of weeks, the details can be lost, especially as time goes by. So we here at CinemaBlend thought it'd be a good idea to retrace the entire history of Gunn's dismissal, as well as where the project is now, and how the former Troma Films stalwart got his big break in the first place. Here now is James Gunn's history with the Guardians of the Galaxy franchise, and where things stand for the third film, Guardians of the Galaxy Vol. 3.
James Gunn's Writing Career Before Guardians Of The Galaxy
James Gunn's career in film began as a screenwriter / actor at Lloyd Kaufman's legendary B-movie factory, Troma films. 1995 saw him write his first film under their auspices, Tromeo and Juliet, and in a short five years, Gunn saw himself write his first indie movie outside of the company. Titled The Specials, the film which starred Rob Lowe, Judy Greer, Thomas Haden-Church, and his frequent collaborator and brother, Sean Gunn. Not too long after that first taste of superhero action-comedy, Gunn's first big studio credits came rolling, through the 1-2 punch of 2002's Scooby Doo and the 2004 remake Dawn of the Dead. Both films were hits, and two huge results came from their success - Gunn's writing of Scooby Doo 2: Monsters Unleashed for release in 2004, and his writing/directing debut in 2006 through Universal's production of Slither.
James Gunn's Directing Career Before Guardians Of The Galaxy
While blockbuster success eluded Slither, it kept James Gunn in the eyes of genre fans who had an eye for talent. Not to mention, it would also introduce him in a professional capacity to two other future Guardians of the Galaxy actors, Gregg Henry (who played Star-Lord's grandfather) and Michael Rooker (who eventually played Yondu.) Going on to be a cult classic, Slither helped Gunn go indie yet again, through a series of shorts he'd produce for various functions. But ultimately, super powered destiny would call upon him again, as Super was born in 2010, telling the story of Rainn Wilson's Frank - a would be crime fighter who thinks violence is the answer against organized crime. Critical and commercial success missed James Gunn yet again, but that fabled third time was about to be the charm.
Landing Guardians Of The Galaxy
Around the same time as Super's quiet independent release, Marvel Studios producer Kevin Feige started developing Guardians of the Galaxy to potentially join the still growing Marvel Cinematic Universe. With a script already in the works by in-house writer Nicole Perlman, the outlaw team-up picture started to take rudimentary form, which eventually lead to the studio looking into directors in 2012. It came down to several candidates: James Gunn, Ant-Man's Peyton Reed, Captain Marvel's Anna Boden and Ryan Fleck, and The Avengers' Joss Whedon. When all was said and done, Gunn won out, and took up re-writing duties to work the original Perlman draft into what would eventually become Guardians of the Galaxy. A cast was assembled, with the production starting in 2013 for the film's August 1, 2014 release date. What happened next would change everything for Gunn and Marvel Studios alike.
The Success Of The Guardians Of The Galaxy Franchise
When it was released in 2014, Guardians Of The Galaxy broke box office records for the month of August pretty quick. Not only was it the widest August release since G.I. Joe: The Rise of Cobra, it also broke the record for August opening weekend grosses, with other benchmarks soon to fall. Emboldened by the success of what was a B-tier title in the Marvel Comics canon, the movie ultimately rang up a beautiful $773.3 million international gross against a $232.3 million budget. Disney and Gunn would re-team almost immediately for Guardians of the Galaxy Vol. 2, which would itself bring in $863.8 million worldwide on a $200 million budget. The stage was set for an obvious third film to be made, and Gunn knew the characters so well that he gave some notes to Anthony and Joe Russo for the team's inclusion in Avengers: Infinity War.
The Firing Of James Gunn
During James Gunn's early career, the days of Troma and indie filmmaking, he had a bit of a reputation for getting really edgy. This was reflected nowhere better than on his Twitter feed, where the 2008-2009 timeframe was a hot bed of extreme jokes in bad taste. While Gunn has apologized for the tweets, it didn't stop them from making headlines and causing outrage. That ultimately lead to Disney firing Gunn on / around July 19th, just before he was set to take the stage at San Diego Comic-Con to announce a project he was working on with Sony. His Comic-Con appearance was cancelled, and his last round of tweeting on the 19th of July was another apology for his past remarks. His Twitter feed has been radio silent since then.
How The Cast Reacted to James Gunn's Firing
The first cast member to react to James Gunn's firing from Guardians of the Galaxy Vol. 3 has continued to be the most vocal. Dave Bautista, best known as Drax in the Guardians franchise, issued a tweet shortly after Gunn's initial firing, letting everyone to know that he was not only against the firing, but very much pro James Gunn. Afterward, Chris Pratt and Zoe Saldana both posted their own tweets, which were vague on the situation, but ultimately promised that more was coming. The most vocal members of the cast are Bautista and Sean Gunn, who have continued to remain outspoken about the matter. Eventually, the entire cast of Guardians of the Galaxy made a joint statement, not only supporting James Gunn as a person, but also as the director of the Guardians franchise.
The Current Status Of Guardians Of The Galaxy Vol. 3
As of this moment, Guardians of the Galaxy Vol. 3 is still a going concern for Disney and Marvel Studios. The film was rumored to have a 2020 release date, but that was never officially confirmed, as no Marvel projects past Spider-Man: Far From Home have been announced just yet. There is a completed first draft of James Gunn's version of Guardians of the Galaxy Vol. 3 currently handed in for review. But seeing as it's almost a certainty that there will be re-writes, no one knows who will work on that script. Not to mention, there's been whispers of Marvel possibly throwing out the script entirely, which is something that Dave Bautista has gone on record as stating he'd leave the project over.
The tale of James Gunn's dismissal has taken an interesting turn as of late, as Guardians of the Galaxy Vol. 3 may be a Gunn directed picture after all. Recent rumors have come to light that not only is the original draft of the third film going to be used, but there's also rumors that Marvel Studios might be pushing their parent company to re-instate James Gunn on the project. This is after several previous rumors that Disney would possibly rehire Gunn were met with claims to the contrary. As you can see, this is still very much a subject of intense debate, and ever shifting fort he time being.
One would hope that this will all be resolved in the near future, for the sake of Guardians of the Galaxy Vol. 3, as well as the film's cast, crew, and fans. But a solution to this situation doesn't look to be an easy fix, and as matters continue to progress, you can be sure that we here at CinemaBlend will continue to report the next chapter in the saga between James Gunn and his former employer.
Senior Movies Contributor
CinemaBlend's James Bond (expert). Also versed in Large Scale Aggressors, time travel, and Guillermo del Toro. He fights for The User.
Your Daily Blend of Entertainment News
Thank you for signing up to CinemaBlend. You will receive a verification email shortly.
There was a problem. Please refresh the page and try again.