11 Great Movies Coming To Netflix In September 2018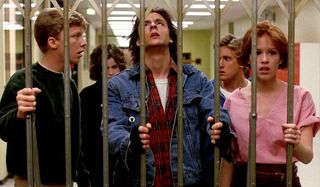 As with any new month, Netflix is throwing up a bunch of content that'll please audiences and justify another month's subscription dues. But, of course, out of the massive stream of newer content comes, there are some titles that stand out as the best of the best. This September is no exception, as we've got some legitimate classics, fairly exciting films of recent memory, and even some buried treasures of eras far and wide. While you're welcome to see this month's total line-up for yourself, the following are the top titles you should consider throwing into your streaming queue as soon as they're available.
Groundhog Day
Deja vu hasn't felt as funny as it did when Bill Murray and Harold Ramis teamed up to create the metaphysical comedy classic Groundhog Day. With Murray starring as a miserable weatherman forced to repeat the same day over and over again, for no clear reason whatsoever, what could have simply been a slapstick comedy went into sophisticated, rarefied territory. It's a film just as good as ever, should it be the first or fiftieth time you've watched it.
Scarface
The fact that Scarface can go on for almost three hours with as much action and obscenity as it does, and not miss a beat, says something about the work that director Brian DePalma did with Oliver Stone's legendary screenplay. Tony Montana's rise to power, and the ways it ruins his life, are legendary among cinephiles of all stripes, even after taking into account that the film is a remake of a 1932 gangster picture of the same name. A new remake is kicking around town, waiting for a shot at life, but no matter how good it potentially may be, it's going to take a lot to match up to this version's charms.
The Breakfast Club
After delivering his first directorial hit with the equally famous Sixteen Candles, National Lampoon writer-turned-movie-maker John Hughes really broke through to the mainstream with The Breakfast Club, and it's not hard to see why. It cemented the Hughes formula of teen characters who, while caught up in ridiculous or outlandish circumstances, didn't lose their humanity and acted as more than just empty vessels for the story to push along at will. And with a murderer's row that includes Molly Ringwald, Emilio Estevez, Ally Sheedy, Anthony Michael Hall, and Judd Nelson, this was a hot bed of young talent bouncing off of each other, taking things to the next level. Also, as we'll see with another film on this list, the lesson of how important a film's soundtrack really is would come into play with the film's success. So don't you forget about that.
The Hitchhiker's Guide to the Galaxy
Typically, a film adaptation of a book like Douglas Adams' The Hitchhiker's Guide to the Galaxy would be saddled with the huge burden of measuring up to its source material. But in the case of the 2004 version of this sci-fi classic, there's two factors that relieve it of such a curse: Adams himself helped develop the screenplay before his passing, and the truth is, there's no definitive edition of the story to begin with. So you can sit back and enjoy this underrated comedy, whether you've read the book or not. And frankly, if you can't enjoy Martin Freeman as a quintessentially English man traveling traveling through space with Sam Rockwell, Yasiin Bey, and Zooey Deschanel, why are you watching movies in the first place?
Unforgiven
If it wasn't for Clint Eastwood and his landmark Western, Unforgiven, we probably would have never had the modern resurgence of this once B-movie genre. As a gunslinger who reluctantly gets back in touch with his inner killer, Eastwood draws from his extensive experience in this sort of film, and turns it into introspective / violent gold. With a supporting cast that includes Morgan Freeman, Richard Harris, and Gene Hackman, it's a film that blasts away on all cylinders, helping redefine a genre in a more modern context. If you're a fan of James Mangold's Logan, you owe this film a viewing out of respect for indirectly influencing that film's path to life.
Pirates Of The Caribbean: Curse of The Black Pearl
No one expected Pirates of the Caribbean: Curse of The Black Pearl to become the mega hit it eventually went on to be in 2003's box office race. A theme park ride didn't seem like the best inspiration for a successful movie franchise, but this was the one that proved them wrong. Going as far as netting Johnny Depp an Academy Award nomination, as well as a meal ticket for over a decade, the first film is the one everyone returns to for the most joy, and it'll be back on Netflix if you want to enjoy it for probably the last time before it goes to Disney's streaming service.
Disney's The Emperor's New Groove
Speaking of Disney, there's some animated comfort heading onto Netflix yet again this month. In particular, they are two films that come from the wilderness period at the turn of the century: Lilo and Stitch and The Emperor's New Groove. Seeing as the former is already a beloved film that has plenty of goodwill, it seems fair that Emperor Kuzco's journey of self-enlightenment (as a llama) gets the bigger spotlight this tie out. David Spade and John Goodman pretty much make this one, but Eartha Kitt and Patrick Warburton steal more than their fair share of scenes. Also, if you're looking to do a movie/dinner night, use this recipe for Spinach Puffs to help complete the night. Once you've seen the movie, it'll make sense.
Black Panther
Before you ask, yes, this is the last Disney-adjacent film that we're going to be talking about this month. That said, it's no one's fault that Black Panther creates a perfect trinity of mouse owned excitement in this month's line-up. Ryan Coogler's pre-summer blockbuster showing the rise of T'Challa as the king of Wakanda, as well as the country's struggle to claim its identity in the wake of said shake up, is not only a treat as a movie, it's also a pretty fantastic cultural milestone from this year's crop of films. You've probably seen this one, but you'll be able to re-watch it as many times as you like starting next month.
Spider-Man 3
This is a good time to pause, as the laughter and/or rage you're undoubtedly feeling is passing. Yes, Spider-Man 3 is an ill-advised film on the whole, as Sony and Sam Raimi disagreed as to where this franchise should go, and it shows. However, even as the infamous failure we all know and discuss, there's still some good pieces to the film's narrative, particularly in James Franco chewing scenery as an evil soap opera villain version of Harry Osborne. Also, Thomas Hayden-Church's Sandman really should have been the film's central villain, as his portrayal of the character was another positive thing to latch onto. But perhaps the best reason to revisit Spider-Man 3 is so that we can start thinking about which film does Venom better: this one, or Tom Hardy's upcoming incarnation?
Role Models
Here's an opinion for you: David Wain's Role Models doesn't get nearly enough love as it should, and probably should have gotten at least a sequel or two. Paul Rudd and Seann William Scott occupy the center of a cavalcade of comedic faces you'll definitely recognize, as they serve out community service sentences that require them to mentor young children. It's a PG-13 concept in a pretty R-rated execution, and it has equal measures of heart and humor throughout its story. It might be too late for a sequel, but at the very least, this film should serve as proof why Rudd and Scott need to re-team for another movie together.
Scott Pilgrim vs. the World
We close this month's proceedings with a film that was always destined to be a cult classic. Edgar Wright's silver screen adaptation of Scott Pilgrim vs. The World felt like it was going to be a movie that fans loved, despite its status as a box office flop, from the word go. This visually inventive / insanely funny story of a man, seven evil exes, and a lot of word play, is just as fresh today as it was when it debuted almost ten years ago, and is arguably Michael Cera's best performance. More than that, it's a perfect example of how strong Wright's knack for making pseudo-musicals truly is, as this film's soundtrack is more than just sonic wallpaper, it's the film's damned pulse.
Senior Movies Contributor
CinemaBlend's James Bond (expert). Also versed in Large Scale Aggressors, time travel, and Guillermo del Toro. He fights for The User.