Steve Carell And Timothee Chalamet Are Devastating In Beautiful Boy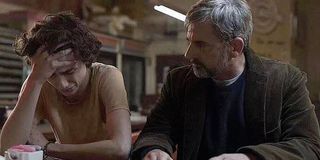 Beautiful Boy isn't the movie I expected, and that's a good thing. Knowing that Boy is based on the best-selling memoirs of David Sheff (Steve Carell), who watched helplessly as his son Nic (Timothee Chalamet) succumbed to drug addiction -- and knowing I'm the father of two sons of my own -- I went into the World Premiere at the Toronto International Film Festival expecting (nay, demanding) to be emotionally devastated and reduced to a weeping mess.
But Beautiful Boy doesn't play that game. It's emotional, yes. It's powerful, undoubtedly. But director Felix Von Groeningen hasn't made a weepy tearjerker that hammers away at your heartstrings. He instead treats the Sheff's harrowing story as a cold, clinical cautionary tale for parents of teenagers to show that drug addiction can affect anyone -- and the effects of an addiction can shake a tight-knit family to its core. Touching, terrifying, haunting and challenging, it's Scared Straight Oscar Bait, but it's also a feature that will propel its leads into their respective Oscar categories, with Chalamet looking like an early frontrunner in whatever category he decides to campaign.
Nic is a typical teenager (its unnerving how much I saw in him in my own teenager), who is a good student and a loving son but who experiments with recreational drugs because hey, it's California, and even his supportive dad (Steve Carell) experimented back in the day. But Nic's experiments get out of hand, and occasional marijuana use becomes regular cocaine and methamphetamine abuse. He begins a stint in rehab, and also begins a steady roller coaster ride of falling into and out of the vice grip of his addictions, with each new low pulling the thread of sanity in his shocked and supportive father.
Steve Carell, playing David Sheff, continues to carry the torch once held by Robin Williams as the mainstream entertainer most adept at credibly transitioning between gut-busting comedy and soul-searching drama. That's no light compliment, and Carell's achievements as a devastated dad demonstrate his ability to sell compassionate and caring, but also confused by the predicament his family finds itself due to unwise choices by one son. Carell has to convince us of unconditional love -- an irrational emotion that all parents feel. And it seeps through in Beautiful Boy every time Nic veers off the straight path.
As good as Carell is, Timothee Chalamet is better, in the undoubtedly showier role. But the Call Me By Your Name standout captures a wide range of emotional turns as Nic struggles to stay sober, stamping down demons that an actor of his age shouldn't even comprehend yet, and visibly shaking us with his highs and lows... even as we predict the outcome of his recognizable struggle.
Beautiful Boy isn't a conventional tearjerker, and Van Groeningen takes some risks with his adaptation that don't always work. Musical cues convey moods that don't always sync with what's happening on screen, and while Amy Ryan and Maura Tierney are fine in support of the leads, they don't get nearly as much heavy lifting. (Tierney's lone scene of note is a weird car chase involving a mini-van that goes nowhere and abruptly stops, one of a handful of scenes that seem like they needed to be longer, or exorcised altogether.)
But Carell and Chalamet elevate the material every chance they get. There's a diner scene between the two that's so fantastic, the movie could have stopped there, and both men still would receive Oscar nominations. See Beautiful Boy for that scene alone, though the rest is compelling and harrowing, in equal parts.
Sean O'Connell is a journalist and CinemaBlend's Managing Editor. He's frequently found on Twitter at @Sean_OConnell. ReelBlend cohost. A movie junkie who's Infatuated with comic-book films. Helped get the Snyder Cut released, then wrote a book about it.
Your Daily Blend of Entertainment News
Thank you for signing up to CinemaBlend. You will receive a verification email shortly.
There was a problem. Please refresh the page and try again.