4 Horror Movies To Look Forward To In October 2018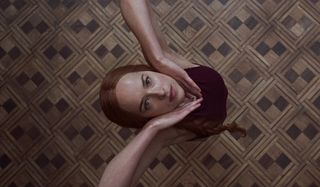 For horror fans, there is no month better than October. Halloween is essentially a month long holiday for cinephiles, providing the only excuse needed to watch as many spooky and freaky titles as possible. There are obviously a ton of classics to look back on, both to discover and rewatch, but there are also some choice new releases that are going to be available -- and it's exactly those titles we're here to highlight.
The next few weeks are going to see some cool and exciting new horror movies hit the big screen and major streaming services, and we've built this feature to highlight the four biggest. Some are coming at the end of this very week, and others will require a touch of patience, but overall they should help you celebrate your Halloween right.
Goosebumps 2: Haunted Halloween -- October 12
Starring Jack Black, Dylan Minnette, Amy Ryan, Jillian Bell, and more, Goosebumps was a massive hit when it was released back in 2015 - not only among critics, but also at the box office, ultimately grossing $150 million worldwide on a reported $58 million budget. It proved to be a perfect treat for audiences of all ages looking for some monster-filled scares, and now Sony Pictures is ready for a second round with Goosebumps 2: Haunted Halloween.
Technically the new movie is in continuity with the first, though it follows a whole new group of characters. Jeremy Ray Taylor (IT) and Caleel Harris (Castle Rock) star as friends who find their way into R.L. Stine's abandoned house and discover a never published book: Haunted Halloween. Unlocking the tome results in the return of Stine's most horrifying creations, including the evil ventriloquist dummy Slappy. Ari Sandall (The Duff) is at the helm, and Goosebumps 2: Haunted Halloween's ensemble cast includes Madison Iseman, Wendi McLendon-Covey, Chris Parnell, and Ken Jeong. If this film can successfully be just as fun as its predecessor, it could wind up being the second family-centric horror treat this fall after Eli Roth's The House With A Clock In Its Walls (which is still in theaters, by the way).
Apostle -- October 12
Gareth Evans is best known to audiences as the filmmaker behind The Raid and The Raid 2, but with his latest movie he has taken a big turn genre-wise. After turning the world on to Indonesian action flicks, he's now ready to terrify crowds with some cult-centric horror. Dan Stevens plays the brother of a young woman being held for ransom by a violent religious faction, and sneaks on to their isolated island in hopes of rescuing her. What he discovers while he's there, however, is that what's being worshiped is definitely not the Christian god, and far more disturbing.
Apostle had its premiere at Fantastic Fest in Austin, Texas last month, and it's definitely a gripping ride. There are a number of standout, heart-stopping sequences, and the cast including Dan Stevens, Michael Sheen, and Lucy Boynton are fantastic. You won't be able to catch this one in theaters, but instead will only be able to watch if you are a Netflix subscriber . Do yourself a favor and make the room as dark as possible and turn the audio all the way up. Oh, and definitely don't watch with any children around, because there are some moments that will guarantee nightmares.
Halloween -- October 19
In 1978, John Carpenter presented audiences with a very simple premise: a psychopathic killer, imprisoned under psychiatric care for most of his life, breaks out on the anniversary of his first murder, and goes on a homicidal rampage in a small neighborhood on All Hallows' Eve. Thanks to its brilliant style and quickly iconic characters, the film was a massive hit, and spurred on one of the industry's most substantial horror franchises. Sadly, most of the sequels aren't very good, and neither are the recent reboot titles, but now director David Gordon Green is here to rescue the brand's reputation with his phenomenal Halloween.
The new movie completely rewrites the series continuity, pretending Halloween 2 and beyond didn't happen, and at a base level the setup is very similar to its predecessor. What's most important, though, is that it's an impressively fun and scary cinematic experience that is a pure crowd pleaser. Jamie Lee Curtis is back as Laurie Strode, who has been preparing for the return of Michael Myers every day since the night he first came home, and it's a ride with excellent twists and turns that wonderfully play on every single expectation. It was a hit at the Toronto International Film Festival, it was a hit at Fantastic Fest, and later this month it will be a massive hit in theatrical release.
Suspiria -- October 26
While Halloween is poised to be the big blockbuster of the upcoming holiday, you shouldn't ignore the freaky feature that will be available for audiences in limited release. After blowing audiences away last year with the Best Pictured-nominated Call Me By Your Name, director Luca Guadagnino is back with a very different experience that deserves to be seen on the biggest screen possible. Though he took on a monumentally challenging project remaking one of horror icon Dario Argento's most iconic titles, the new Suspiria is a staggeringly beautiful and independent piece of art that is a total mind-blower.
Following its world premiere at the Venice International Film Festival, the new movie played as the secret screening at Fantastic Fest, and it rocked Austin audiences into stunned silence. It's an epic experience that never feels overly-deliberate in its pacing, and in addition to being lush and gorgeous it regularly shocks you to your core with intensely disturbing imagery. Dakota Johnson delivers the best performance of her career, but she is also supported by another masterful turn from Tilda Swinton. While the year isn't over and there are plenty more films to come, Suspiria is not just a candidate to be called the best horror movie of the year, but best movie of the year period.
NJ native who calls LA home; lives in a Dreamatorium. A decade-plus CinemaBlend veteran; endlessly enthusiastic about the career he's dreamt of since seventh grade.
Your Daily Blend of Entertainment News
Thank you for signing up to CinemaBlend. You will receive a verification email shortly.
There was a problem. Please refresh the page and try again.