15 Actors Who Have Been Rumored To Take Over For Daniel Craig As James Bond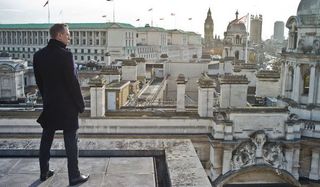 Bond... James Bond. It's a sought after role that many will chase, but few get to call their own. With Daniel Craig sending his tuxedo to the cleaners for good after Bond 25, it's, obviously, time to find a new super spy to protect the world in the name of the British crown. There's no shortage of names for the position, and thanks to some recent betting activity, there's a good list of folks that seem to be front runners and long shots. Though there are some surprises that don't have any money riding on them just yet.
Richard Madden
Madden is the apparent favorite in the betting world right now, and why wouldn't he be? Folks mostly remember him as the ill-fated King of the North, Robb Stark, from Game of Thrones, or his turn as Prince Charming in Kenneth Brannagh's live-action Cinderella. So, he can fight, as well as handle himself at a party.
Though, most recently, his name has been flying around as part of a hit British action/drama, Bodyguard, where he plays a law enforcement agent sworn to protect the Home Secretary. With a background in action, and a current gig that more than likely invokes Bond-ian comparisons on a regular basis, this could be a really good fit.
Sam Heughan
Sometimes, all you need to do is put on a tuxedo, and people will start saying you're the next James Bond. And that's exactly what happened to Sam Heughan, after he played a facsimile of 007 in this year's comedy, The Spy Who Dumped Me.
Best known for his role as Outlander's dreamy Jamie Fraser, he was even asked about playing the role at this year's New York Comic Con panel. Naturally, nothing definitive was said, but you could see in his face that Heughan has definitely thought about the possibility.
Idris Elba
Perhaps one of the most famous names attached to the next potential James Bond has been Idris Elba. A fixture of British television, thanks to the BBC's Luther, as well as an actor who's been in films far and wide, his is a name that's still hotly debated as next in line for a franchise martini.
While there haven't been any talks between Elba and Sony, with the actor even pegging himself as too old for the role, there's always been a fan contingent in his corner. If the right offer came along, we wouldn't blame him for never saying never again.
Tom Hiddleston
Tom Hiddleston's courtship with the role of James Bond was a sort of twofer. Not only did his lead role in The Night Manager land him notice as a possible replacement for Daniel Craig, it also gave series director Suzanne Bier some attention as a possible helmer for the franchise.
His participation may be dependent on whatever sort of Marvel contract Hiddleston has left. But, even if he was free and clear, he might be too typecast as the baddie (courtesy of his long-running stint as Loki in the MCU) to get that far in the running.
Tom Hardy
It wouldn't be a bad thing if Tom Hardy found himself cast as the next 007. The man has a wide breadth of credits and experience that would suit him well, should he ever want to pursue the role of James Bond. However, Hardy's tastes in his roles do run rather eclectic, and the success of Venom more than likely ties him up for the next couple of years.
So, even if he could play Bond, there's no guarantee that he'd even want to. Though should he need a reference, former 007 Pierce Brosnan has backed him in the recent past.
Henry Cavill
Of course Henry Cavill's name would come up as a candidate for James Bond. This is exactly what happened when Pierce Brosnan was shown the door, and Cavill was apparently really close to getting the iconic role in Casino Royale, strong off of his work in Showtime's The Tudors.
While Daniel Craig won out that round, Henry Cavill has still expressed interest in playing the role. So, maybe his recent roles in both The Man From U.N.C.L.E and Mission: Impossible - Fallout were more than just a fun distraction from the imploding mess that is the DC Extended Universe.
Dan Stevens
While not as concretely mentioned as others on this list, Dan Stevens of Downton Abbey and Legion fame has had his name thrown into the ring as well. Though he's admittedly one of the more oddball picks, as he's not on the official betting odds list.
Stevens could be a good last minute contender for James Bond. The only problem is, the buzz surrounding him possibly getting the role would have to grow a bit more for serious contention, much like the rest of the contenders we're about to consider.
Aidan Turner
You wouldn't think playing a love sick dwarf would be a big credit towards someone wanting to slip into the role of James Bond. Apparently, the competition to be the most lethal British spy opens itself up to some interesting competitors in that way -- just ask Aidan Turner.
His most high visibility role in the movie world was of Kili in The Hobbit trilogy, the dwarf who longed after Evangeline Lily's Tauriel. TV-wise, though, it's easier to see why he'd be in the running, as he's well known as the strong-willed romantic lead of the Poldark series.
Jack Huston
Through his role on Boardwalk Empire, Jack Huston built up quite a bit of capital as the strong but mostly silent war veteran turned enforcer Richard Darrow. It was enough to land him the lead in the defunct reboot to The Crow, and apparently, it's enough to land him in the back half of the field to become Bond.
Huston has not only enough experience with drama of all stripes, he's also classically handsome in the way that Bond fans are accustomed to. Throw in his relatively unknown, but exceptionally strong resume, and he's a prime pick.
Orlando Bloom
Even in his prime years in the Lord of the Rings and Pirates of the Caribbean trilogy, Orlando Bloom has always been a name tangentially mentioned in connection to James Bond. His intense fan base, and action chops, put him there without question.
In recent years, Bloom hasn't been as active in his film career, which may be why he's further back in the pack. That being said, there's obviously something about him that keeps fans hoping he'll get the call to save us all.
Robert Pattinson
While Robert Pattinson is a name that may send some running for the hills, due to his Twilight affiliation, let's not forget the amazing work he's done since his time as a love struck vampire. Films like The Rover and Good Time have kept the man in the game, rehabbing his career something fierce in a very short time.
While his tastes in roles have run a bit more experimental in recent times, the hiring of director Cary Joji Fukunaga for Bond 25 might be the sort of sign that he's just the person to bring Bond into a new era. He's a lower tier candidate for now, but we'll see how that changes after this next film releases.
Benedict Cumberbatch
Some might feel that Benedict Cumberbatch is an odd choice, while others could see him as a natural fit. It's a bit of a toss up, to be sure, but what's also certain is the role of James Bond would truly be interesting in his hands.
Unfortunately, Cumberbatch has already made a name for himself as the BBC's Sherlock, as well as Marvel Studios' Doctor Strange. So, between those two franchises, their similar archetypes of brash genius, his scheduling, and public opinion, the role of Bond may not end up being in his favor.
Christian Bale
Pondering Christian Bale as James Bond is something that has been tempting to fans for over a decade at this point. Rumored to have been offered the role during the Casino Royale scrum that Henry Cavill saw himself a part of, Bale himself dispelled those rumors a couple of years ago.
But, even after playing Batman in Christopher Nolan's Dark Knight trilogy, the opportunity is still one that more than a couple of folks would like to see. However, his recent niche as a prestige player is probably what has him on the lower end of Sky Bet's betting pool (which we saw via The Sun.)
Jude Law
Jude Law has never had strong odds in the way of playing James Bond, which has always been a shame. Another candidate of range and distinction, Law has had experience in pretty much all corners of filmdom, most recently becoming the young Dumbledore for the Fantastic Beasts franchise.
While he's on the older side of the candidates mentioned, Jude Law does have something that fellow whisper candidate Sam Heughan has: he's played a parody of Bond. You can thank Paul Feig's Spy for both Law getting to send up 007 in proper fashion, and his possible hiring as Bond himself, should things play his way.
Liam Neeson
Buckle up folks, because this isn't the first time Liam Neeson has been tipped as playing James Bond. That distinction goes to a project from back in the late '90s entitled Warhead 2000, which would have seen Neeson playing the super spy in a non-canon remake of Thunderball.
While that was at least 20 years ago, that hasn't stopped Neeson from still finding himself in the betting pool for Bond 26. Though he's one of, if not the, oldest candidates out there, you have to admit the man would be a hell of an ass kicker in her majesty's secret service.
This poll is no longer available.
Your Daily Blend of Entertainment News
Senior Movies Contributor
CinemaBlend's James Bond (expert). Also versed in Large Scale Aggressors, time travel, and Guillermo del Toro. He fights for The User.
Your Daily Blend of Entertainment News
Thank you for signing up to CinemaBlend. You will receive a verification email shortly.
There was a problem. Please refresh the page and try again.