Star Wars: Episode IX Will Reportedly Have Rey Repairing Luke Skywalker's Lightsaber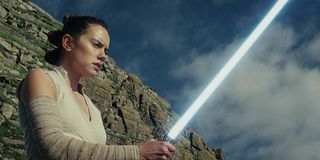 When Luke Skywalker got started on his hero's journey in Star Wars: A New Hope, he inherited the lightsaber that belonged to his father, Anakin Skywalker, before he turned to the dark side and became Darth Vader. Luke lost that weapon in The Empire Strikes Back, but three decades later, it wound up in Rey's hands and briefly served as her lightsaber. Unfortunately, the lightsaber was destroyed during The Last Jedi, but rather than construct a new lightsaber from scratch for Episode IX, supposedly Rey will repair the weapon already in her possession.
You'll recall that Luke Skywalker's lightsaber was broken in two when Rey and Kylo Ren engaged in a Force tug of war after the former refused the latter's offer of ruling The First Order by his side. Rey retrieved the pieces before escaping Snoke's Star Destroyer, and she looked at them as The Last Jedi wrapped up while she was aboard the Millennium Falcon with the other Resistance survivors. Looking at the picture below, you might that this lightsaber was beyond repair, but word has it that when Episode IX rolls around, Rey will have it back in working order. That said, it's unclear if the lightsaber will look exactly like it did before or if there will be some design differences.
As Making Star Wars noted in its report, there's a "really cool symmetry" between Rey repairing Luke Skywalker's lightsaber and another recent rumor, that Kylo Ren will be wearing a cracked and repaired version of the helmet he destroyed in a tantrum at the beginning of The Last Jedi. Assuming both these pieces of information are legitimate, then one can presume that if/when Rey and Kylo have one final conflict during Episode IX, they'll have both their respective, fixed items on their person.
As we've come to expect with Star Wars movies, Disney and Lucasfilm are keeping tightlipped on specific details regarding Episode IX, including how much time will have passed since The Last Jedi. However, it's generally assumed that there will be a bigger time jump this time around, thus allowing Rey to have grown more experienced in the Force, similar to Luke Skywalker in Return of the Jedi. With the Sacred Jedi texts at her disposal, it's conceivable that Rey learned how to fix a lightsaber from them.
We've seen a lot of lightsabers throughout the Star Wars franchise, but the one now belonging to Rey is arguably the most iconic. Anakin Skywalker wielded it both during the Clone Wars and in his first hours as a Sith, Luke Skywalker relied on it during his early years with the Rebellion, and now Rey is its proud owner, even though working off the existing source material, it's currently useless. Considering that Episode IX is wrapping up the Skywalker Saga, it would be poetic if this weapon could see action one last time.
Star Wars: Episode IX opens in theaters on December 20, 2019. If you're interested in learning what other Star Wars movies are in the works, look through our comprehensive guide.
Your Daily Blend of Entertainment News
Connoisseur of Marvel, DC, Star Wars, John Wick, MonsterVerse and Doctor Who lore. He's aware he looks like Harry Potter and Clark Kent.