Luke Skywalker Was Supposed To Appear In Rey's Force Awakens Vision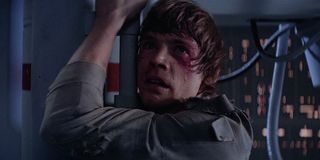 Even though Luke Skywalker was repeatedly mentioned in Star Wars: The Force Awakens and thus the driving force behind most of the events that occurred, the Original Trilogy's protagonist didn't directly appear until literally the final minute. But during The Force Awakens' development, there were plans for an Empire Strikes Back-era Luke to pop up during Rey's Force vision, only rather than being portrayed by a digitally de-aged Mark Hamill, actor Robert Boulter would have brought the character to life, as you can see in the below image.
Over half a year before Star Wars: The Force Awakens was released in theaters, rumors popped up that Robert Boulter would play a young Luke Skywalker, but then the movie arrived and the young Luke was nowhere to be seen in Rey's crazy vision. Nearly three full years later, this picture (which originally surfaced on Reddit) confirms that Boulter was indeed cast as young Luke, as he's dressed in the same duds that Luke wore when he faced off against Darth Vader deep within Cloud City.
Luke Skywalker and Darth Vader's lightsaber duel ranks among the best of the Star Wars saga, and it would have been cool to see this iconic fight revisited in Star Wars: The Force Awakens, even if just for a second or two. Alas, this portion of Rey's vision was cut out of the movie, and whether or not this portion of the sequence will ever be released to the public is uncertain. I could imagine this being saved for a Blu-ray boxset of all the sequel trilogy Star Wars films.
In case you need a refresher on Star Wars: The Force Awakens, after Rey arrived on Takodana with Finn, Han Solo and Chewbacca to coordinate with Maz Kanata about getting BB-8 to the Resistance, the heroine ventured down to the basement of Kanata's cantina and went inside one of the vaults. Among the contents in the room was the lightsaber that Luke Skywalker used in A New Hope and The Empire Strikes Back, which he lost when Darth Vader cut off his hand. That lightsaber previously belonged to his father, Anakin Skywalker, and Obi-Wan Kenobi kept it after defeating his corrupted apprentice on Mustafar.
Upon touching this lightsaber, Rey was bombarded by a series of strange moments, the first of which was one of the hallways where Luke and Darth Vader locked blades in The Empire Strikes Back, though neither of the two men were seen. The vision also showed the older Luke Skywalker and R2-D2 watching the new Jedi temple burning, Kylo Ren and the Knights of Ren in the aftermath of a massacre, Rey as a little girl being dropped off on Jakku by her parents and a glimpse of her coming battle with Kylo in Starkiller Base's forest. We were also treated to dialogue from Yoda and Obi-Wan Kenobi.
Although Luke Skywalker technically showed up in Star Wars: The Force Awakens during that kooky vision, the Jedi Master didn't show up in the flesh until the movie was wrapping up, as Rey finally found him in seclusion on Ahch-To and delivered his old lightsaber to him. The Last Jedi was instead reserved for delving into Luke and Rey's master/apprentice dynamic and revealing what happened to Luke in the immediate years before The Force Awakens that led to him exile himself. However, at the end of The Last Jedi, Luke delivered one last act of heroism by projecting himself to Crait and distracting Kylo Ren long enough for the remaining Resistance survivors to escape.
As things stand now, Luke Skywalker is dead, though since Mark Hamill is confirmed to be reprising the character in Star Wars: Episode IX, we can reasonably assume he'll return as a Force Ghost, just like Obi-Wan Kenobi, Yoda and Anakin Skywalker did before him. However, it's also been rumored that we'll see a younger Luke from after Return of the Jedi showing off his incredible power. The Last Jedi opened the door for Star Wars movies to use actual flashbacks (i.e. ones not induced by the Force), so even if this particular moment doesn't occur, don't be surprised if Episode IX does take a peek at Luke in his younger years.
It's also worth a reminder that three decades passed in between Return of the Jedi and The Force Awakens. That period has already been explored in various novels and comics, and the Disney+ series The Mandalorian will be set then as well, there's still plenty more material that can be drawn from those decades. Ideally Episode IX will elaborate a little more on Luke's pre-The Force Awakens past, but even if it doesn't happen, there will be opportunities for other Star Wars media to delve into the untold chapters of Luke's life. In other words, even though Luke is dead and his time on the big screen is coming to a close, we aren't done with the character yet by a long shot.
As for Rey, we have no idea what to expect from her or the rest of the main Star Wars saga characters in Episode IX. Disney and Lucasfilm remain particularly cagey when it comes to disclosing Star Wars plot information. Along with a lot of returning faces, including the long-awaited return of Billy Dee Williams as Lando Calrissian, the movie will introduce a fair amount of new characters. None of them have been identified yet, but the actors include Naomi Ackie, Richard E. Grant, Keri Russell, Dominic Monaghan and Matt Smith. J.J. Abrams is back to direct (he also co-wrote the script with Chris Terrio) after Colin Trevorrow left the project, and this will be the final Star Wars film that John Williams scores.
The Skywalker saga will conclude when Star Wars: Episode IX is released on December 20, 2019, so stay tuned to CinemaBlend for continuing coverage. In the meantime, you can look through our handy guide to learn what other Star Wars movies are on the way, or you can browse through our 2019 release schedule to learn what's coming out next year.
Your Daily Blend of Entertainment News
Connoisseur of Marvel, DC, Star Wars, John Wick, MonsterVerse and Doctor Who lore. He's aware he looks like Harry Potter and Clark Kent.