This Rotten Week: Predicting Aquaman, Bumblebee, Second Act And Welcome To Marwen Reviews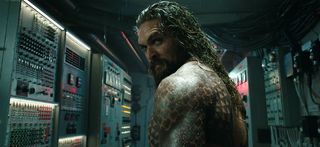 We're heading into the holidays, and studios are ramping up the offerings so that everyone has something to see when vacation starts. This week we've got an undersea superheroes, 1980s Transformers, Jennifer Lopez getting her groove back, and Steve Carell playing with dolls. Get ready for Aquaman, Bumblebee, Second Act, and Welcome To Marwen.
Just remember: I'm not reviewing these movies, but rather predicting where they'll end up on the Tomatometer. Let's take a look at This Rotten Week has to offer.
The DC Cinematic Universe, thus far, has been a mixed bag. And by mixed bag, I mean they've had one legitimately good movie come out, and the rest have been underwhelming at best (comically bad at worst). Starting from the Superman reset, Man Of Steel, up until the release of Aquaman, here's what the list looks like:
Man of Steel (55%)
Batman v Superman: Dawn of Justice (27%)
Suicide Squad (28%)
Wonder Woman (93%)
Justice League (40%)
With the exception Wonder Woman, reviews have not been particularly kind to this cinematic universe. Honestly, I initially thought Aquaman looked like much of the same, but I think I'm going to be ultimately proven wrong. Early reviews are generally positive, with the Tomatoemter sitting at 70% with more than 100 reviews posted. Most critics seem to agree it's a paint-by-numbers blockbuster, but acknowledge it's fun and that the undersea story pops. It's a win for a comic book universe that really needs it.
And now we have another deep franchise dive with troubling critical history. While still viable at the box office (at least in foreign markets), the Transformer franchise has been in a steady nosedive in the last decade. The first flick, directed by Michael Bay, scored a 57%, which was at least respectable, but it's been all downhill from there:
Revenge Of The Fallen (19%)
Dark Of The Moon (35%)
Age Of Extinction (18%)
The Last Knight (15%)
The franchise is now getting a reset, however, with the 1980s-set Bumblebee. Michael Bay is gone from the director's chair, and Travis Knight (_Kubo and the Two Strings _- 97%) has taken his place, making his live action directorial debut. It's something of a prequel, going back to when Bumblebee was a Buggy sent to Earth to pave the way for the rest of the Autobots. Early reviews are excellent, with the feature sitting at 98% with 42 reviews posted (only one negative). I suspect that the movie won't stay at that lofty perch forever, but I also don't imagine that many more Rotten takes coming in to totally decimate the score. Critics love the new tone and think there's still stories to tell in this universe. It's looks like a refreshing return for the franchise, and a chance to look at the Transformer world anew.
A quick glance at director Peter Segal's film resume and I think we can make a fairly accurate guess at where Second Act will end up on the Tomatometer. His most recent work includes films like Grudge Match (30%), Get Smart (50%), The Longest Yard (31%), and 50 First Dates (45%). And while many of his movies are immensely enjoyable (Tommy Boy, for example), he's never finished with a certified fresh film. It's hard to see this feature reversing that trend.
Jennifer Lopez is a store manager whose family fudges her resume/Facebook page/something or other in order to reinvent her to get a high-paying Wall Street job. It's one of those improbable premises that would only survive a Hollywood pitch meeting when a star like Lopez is attached. It's slightly above average with critics right now (57% through seven reviews), but I suspect it drops a bunch over the course of the week.
Welcome To Marwen features what seems to be a very powerful story at its center. After being brutally beaten by a group of Nazis, Mark Hogancamp (Steve Carell) finds a new artistic outfit by photographing dolls created to be World War II soldiers fighting the bad guys. It's based on the 2010 documentary Marwencol (94%), and appears to take some filmmaking risks in the way it drives the narrative. It's a mix of live action and motion capture, which director Robert Zemeckis has used before in movies like The Polar Express (55%) and Beowulf (71%).
Moving in and out of Hogancamp's brain might not be for all moviegoers, and will likely be the big critical test for this film. There aren't any early reviews available, which I find a little troubling in terms of where the score will ultimately land. These are typically the kind of features that studios want early eyes on, hoping to garner enough buzz that they can steal attention from big blockbusters. Still, I think the story, lead characters and ambitious style will win the day, and the movie will wind up with a Fresh score.
I went two-for-three with the predictions last week, with only The Mule (Predicted: 80% Actual: 62%) falling out of range. Overall, critics were split down the middle on the Clint Eastwood film. Some truly hated the tone and story, thinking it just didn't land with any part of the story. Others seemed to begrudgingly like it, nodding to Eastwood's performance as the thing that holds the film together. All in all, this score is something of a disappointment.
Meanwhile, Mortal Engines (Predicted: 35% Actual: 28%) finished well within range, and was a major disappointment considering the budget and source material. It was a big project, but the style and story didn't come close to landing with critics. Ultimately, critics agreed the plot delivery didn't live up to the big world the movie hoped to inhabit.
Finally, Spider-Man: Into The Spider-Verse (Predicted: 99% Actual: 97%) was a massive critical success. This was rather easy to tell even from the trailers. It looked funny and engaging in all the right ways, taking a new spin on an old story and giving a refreshing look at the world of the webslinger.
We'll be back next time around with Holmes And Watson and Vice. It's gonna be a Rotten Week!
Doug began writing for CinemaBlend back when Terminator: The Sarah Connor Chronicles actually existed. Since then he's been writing This Rotten Week, predicting RottenTomatoes scores for movies you don't even remember for the better part of a decade. He can be found re-watching The Office for the infinity time.
Your Daily Blend of Entertainment News
Thank you for signing up to CinemaBlend. You will receive a verification email shortly.
There was a problem. Please refresh the page and try again.